Wildebeest Migration, Liuwa Plains & Bat Migration, Kasanka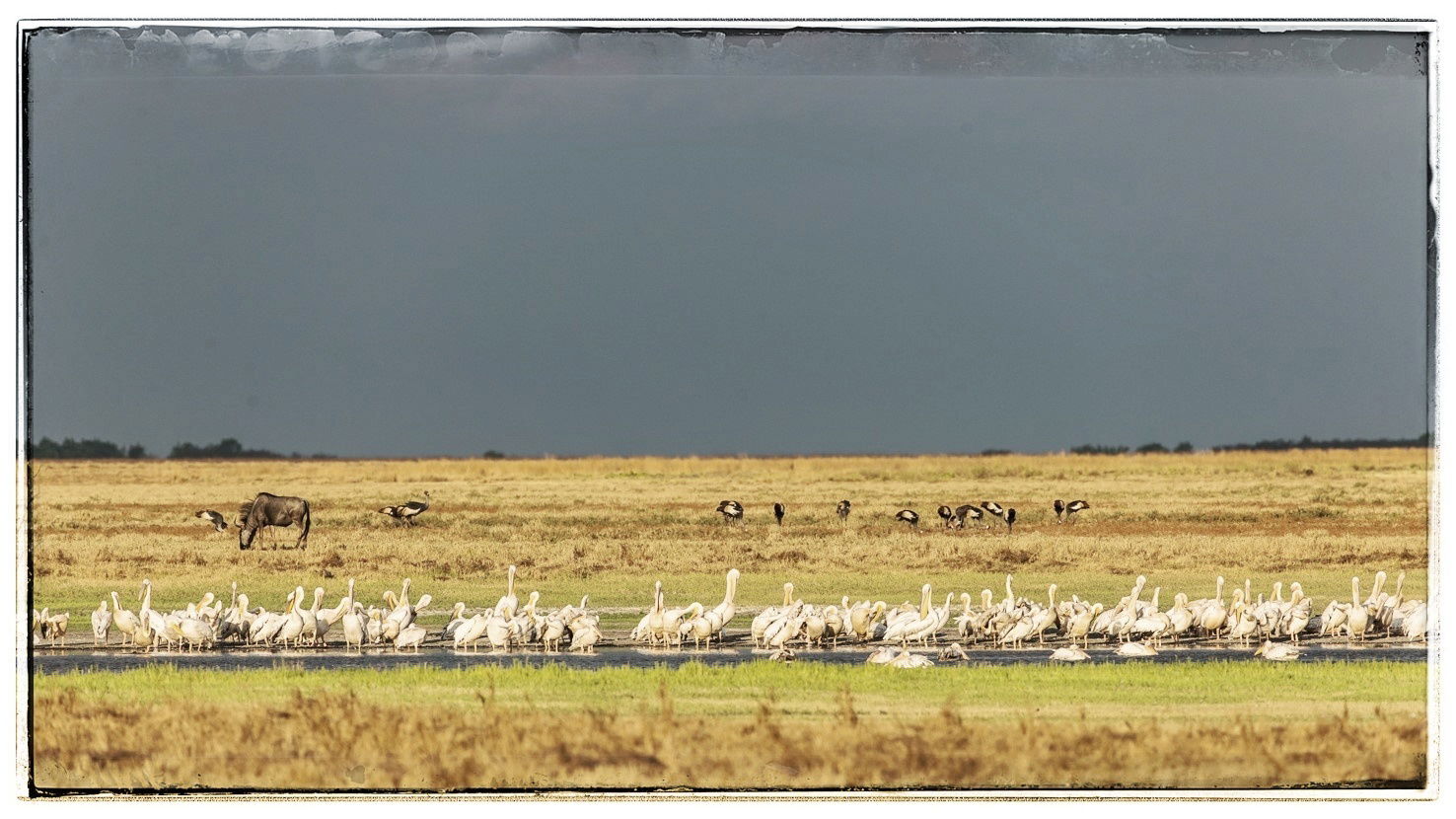 Meet and Greet Day: Katima Mulilo.
Make sure to be at Protea Hotel & Campsite 17H00 where you will meet Jakkals. We will have a nice welcome "braai" and discuss the plans for the next few days.
Camping: Protea Hotel & Campsite. Dinner included.
Day 01: Katima Mulilo – Border Crossing - 380Km
We head for Shesheke border crossing into Zambia. The process is time consuming, but we go through it. We will also change our cash for Zambian currency.
From the border we work way North West following the M10 to Kabula Lodge where we will spend the evening.
Camping: Kabula Lodge – Dinner included.
Day 02: Mongo – Liuwa Plains - 350Km
Working our way further north west we go through Mongo where we will fill up before going to Kalabo. Access to Kalabo, the nearest town to Liuwa Plain National Park, has been vastly improved due to a tar road being built over the floodplains which has recently been completed.
In Kalabo we pay our park fees and enter the Liuwa Plains National Park crossing the Luanginga River with a pontoon boat.
Camping: Katoyana Community Camp – Dinner included.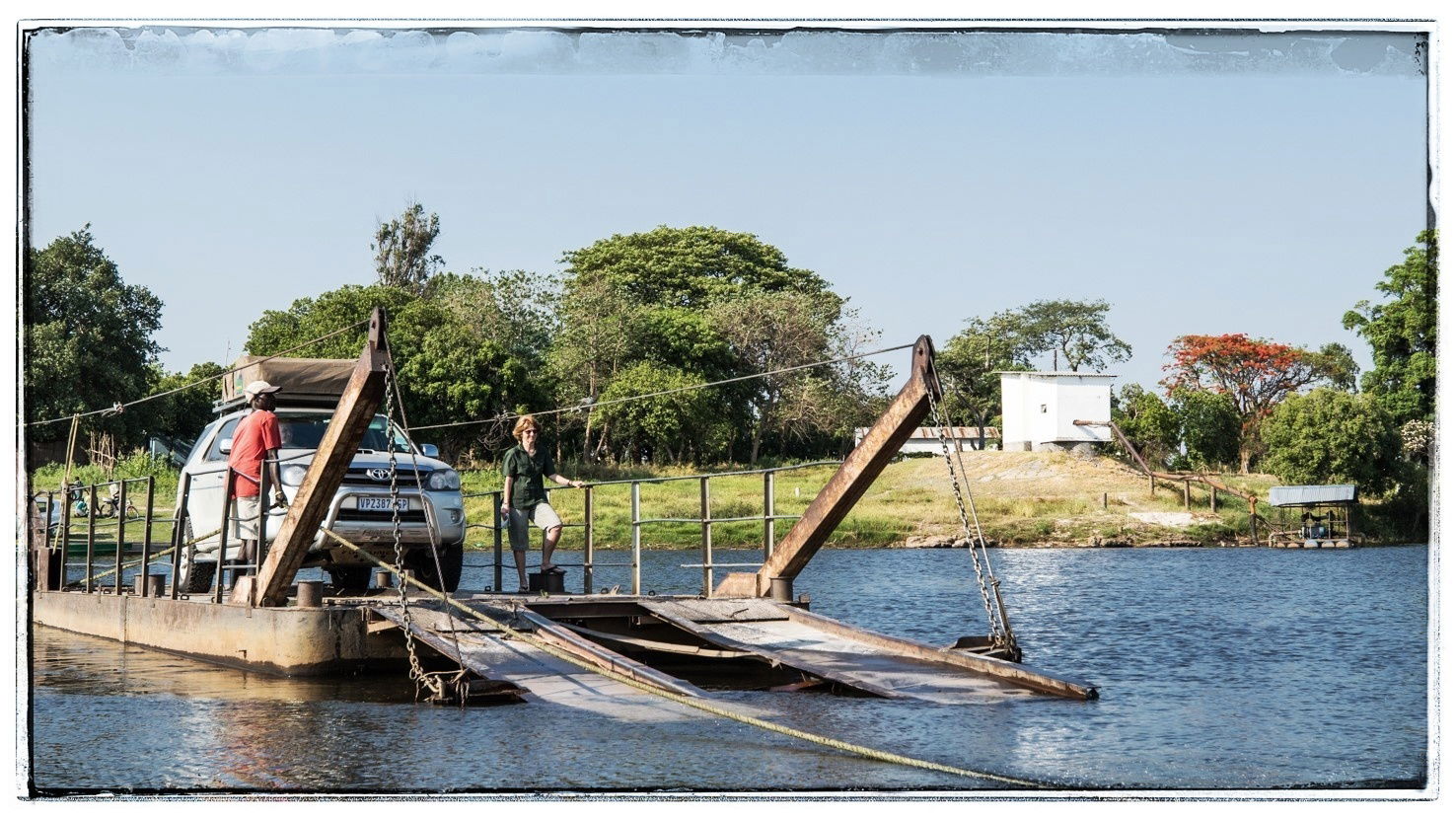 The ferry at Kalabo over the Lueti River from the town of Malabo into Liuwa Plains
Day 03 and 04: Liuwa Plains - 200KM
In November the rainy season begins, dramatic cloud formations erupt as the storms build, creating spectacular skylines and with the onset of the rains, carpets of flowers explode around the pans. This is also the time when large herds of blue wildebeest migrate across the plains from neighbouring Angola.
Other unusual antelope found include Oribi, Red Lechwe, Steinbuck, Duiker, Tsessebe and Roan. The Jackal, Serval, Wildcat, Wild Dog as well as Lion and Hyena are the predators of the area.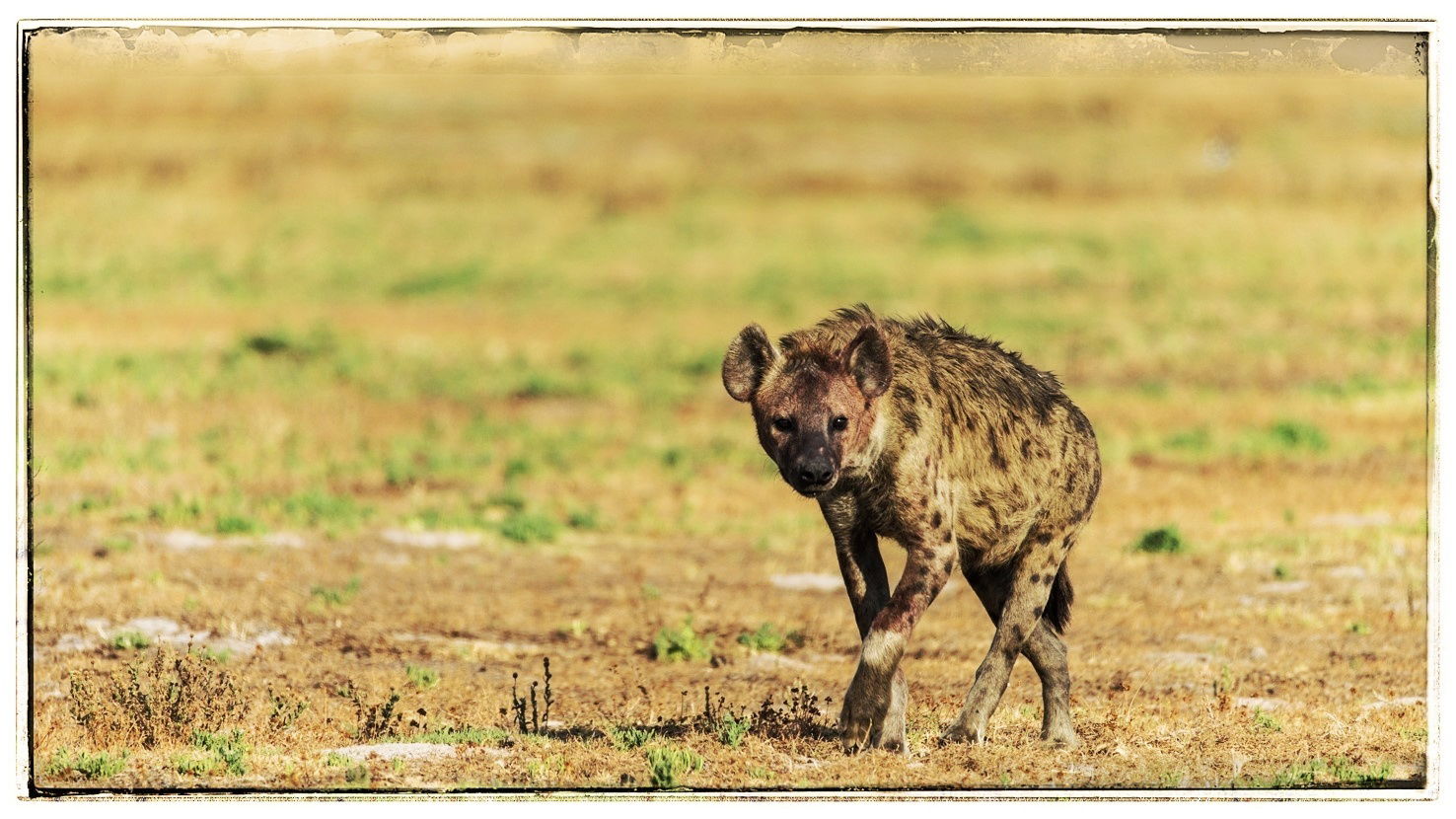 Hyena, very much still the apex predator in Liuwa.
Many birds migrate here during the rains and massive flocks of birds can be seen as they migrate south. Some of the more notables are the White Bellied Bustards, Secretary Bird, Red Billed and Hottentot Teals, Crowned and Wattled Cranes, Long Tailed Whydah, Sooty Chat, Yellow Throated Longclaw, large flocks of Black Winged Pratincoles around the pans, Fish Eagle, Tawny Eagle, Marshall Eagle, Woodland Kingfisher, Pink Throated Longclaw.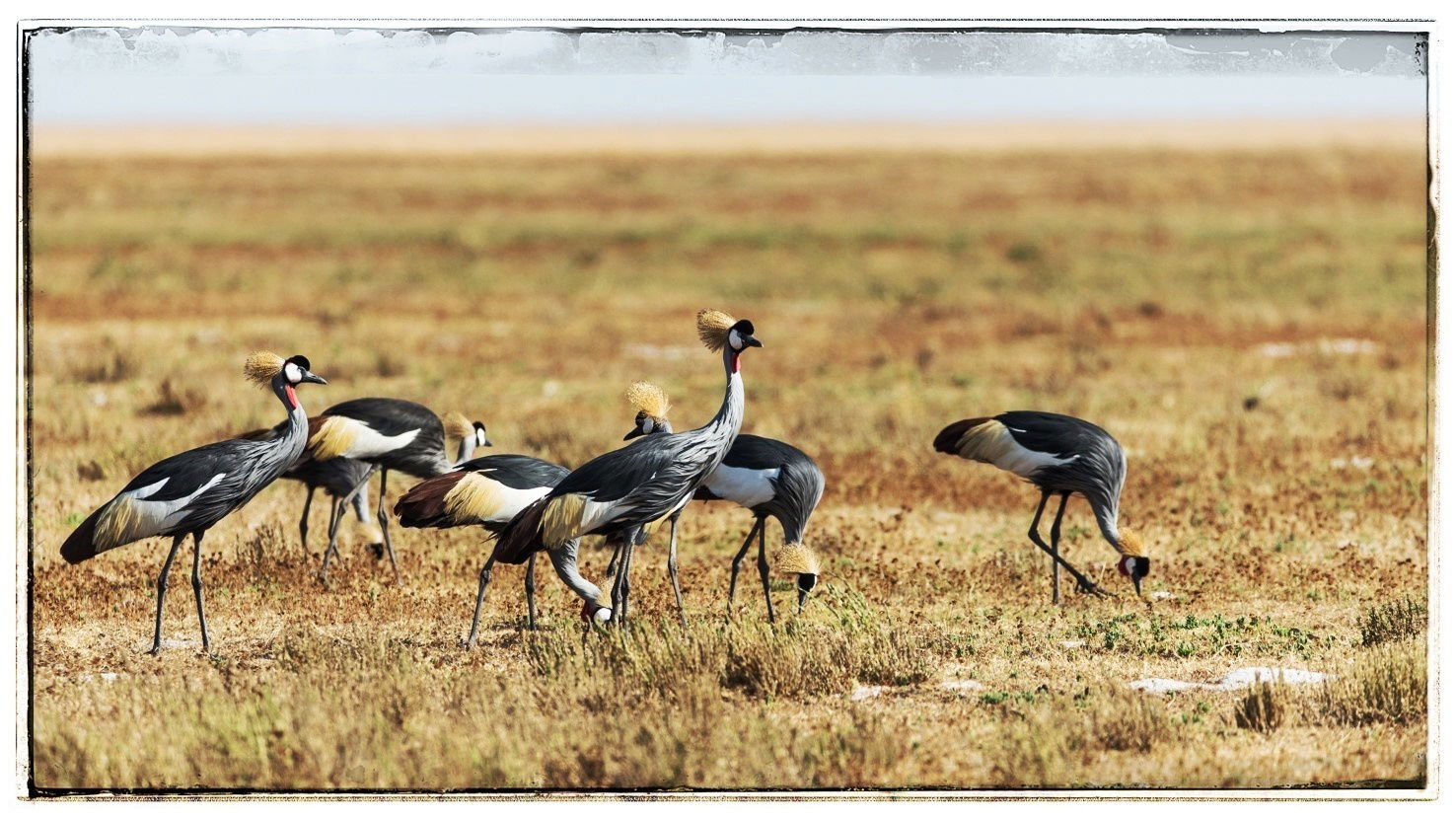 A birders paradise, Crowned Cranes
We spend two full days in the park.
Camping: We move camp to explore and move to Lyangu & Kwale Communal Camps – Dinner included.
Day 5: Kafue - 435km
Today we leave Liuwa, exit over Kalabo and head for Kafue National Park. This is a transfer day and we stop over just inside the park on the Kafue River for the evening. Kafue National Park is an icon amongst Zambia's National Parks. It was established as a national park during the 1950's and covers an incredible 22 400 km2
Camping: Roy's Camp – Dinner included.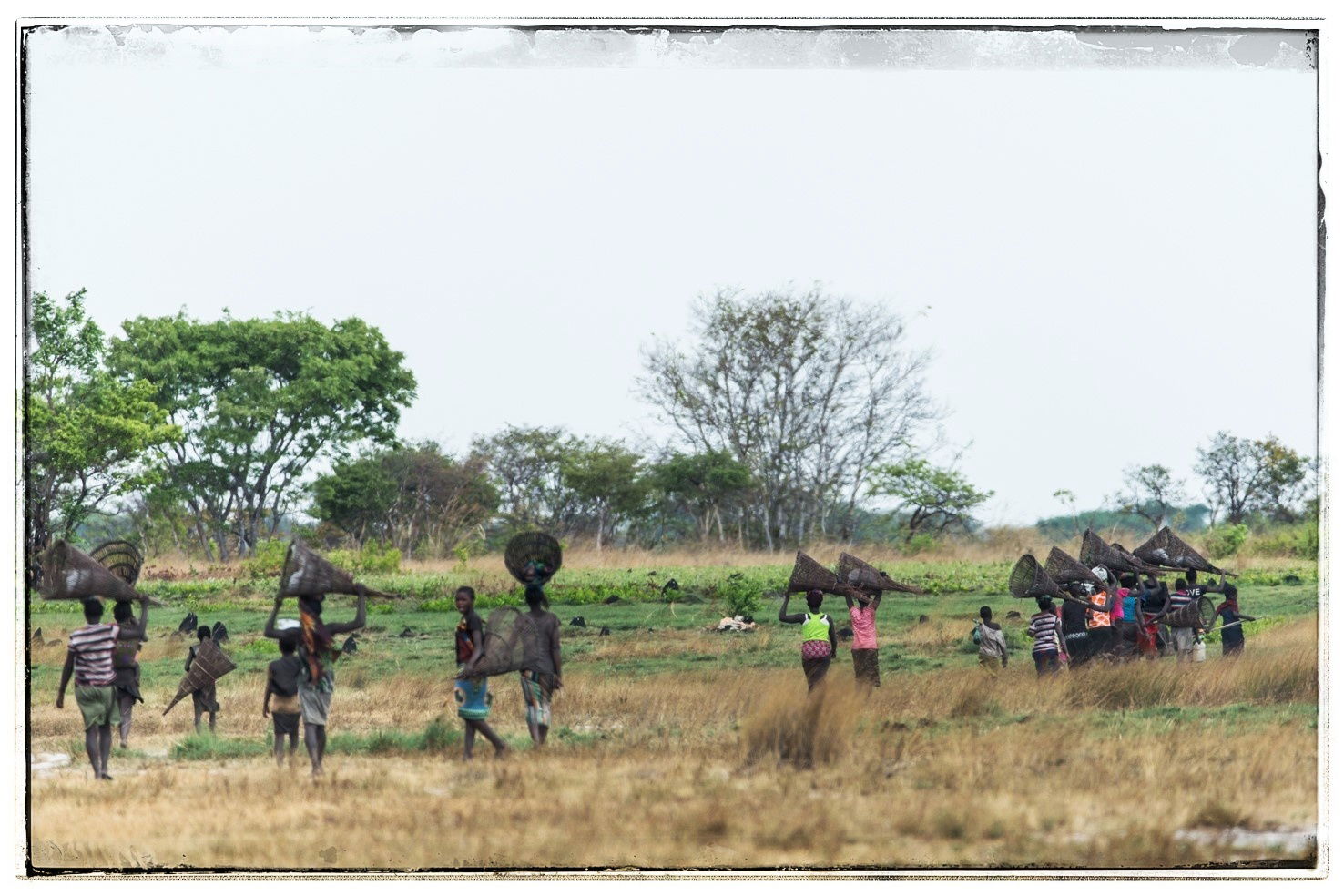 The locals that live in and around the Park are are allowed to fish the pans.
Day 06: 445km
Working our way deeper into Zambia we continue on the M9 direction Lusaka, but we turn away from the "Big Apple" making way for Kasanka. The road is slow yet interesting and makes for a good day driving. Lusaka, after the federation of Northern and Southern Rhodesia in 1953, it was a centre of the independence movement amongst some of the educated elite that led to the creation of the Republic of Zambia. In 1964, Lusaka became the capital of the newly independent Zambia.
Camping: Forest Inn – Dinner included.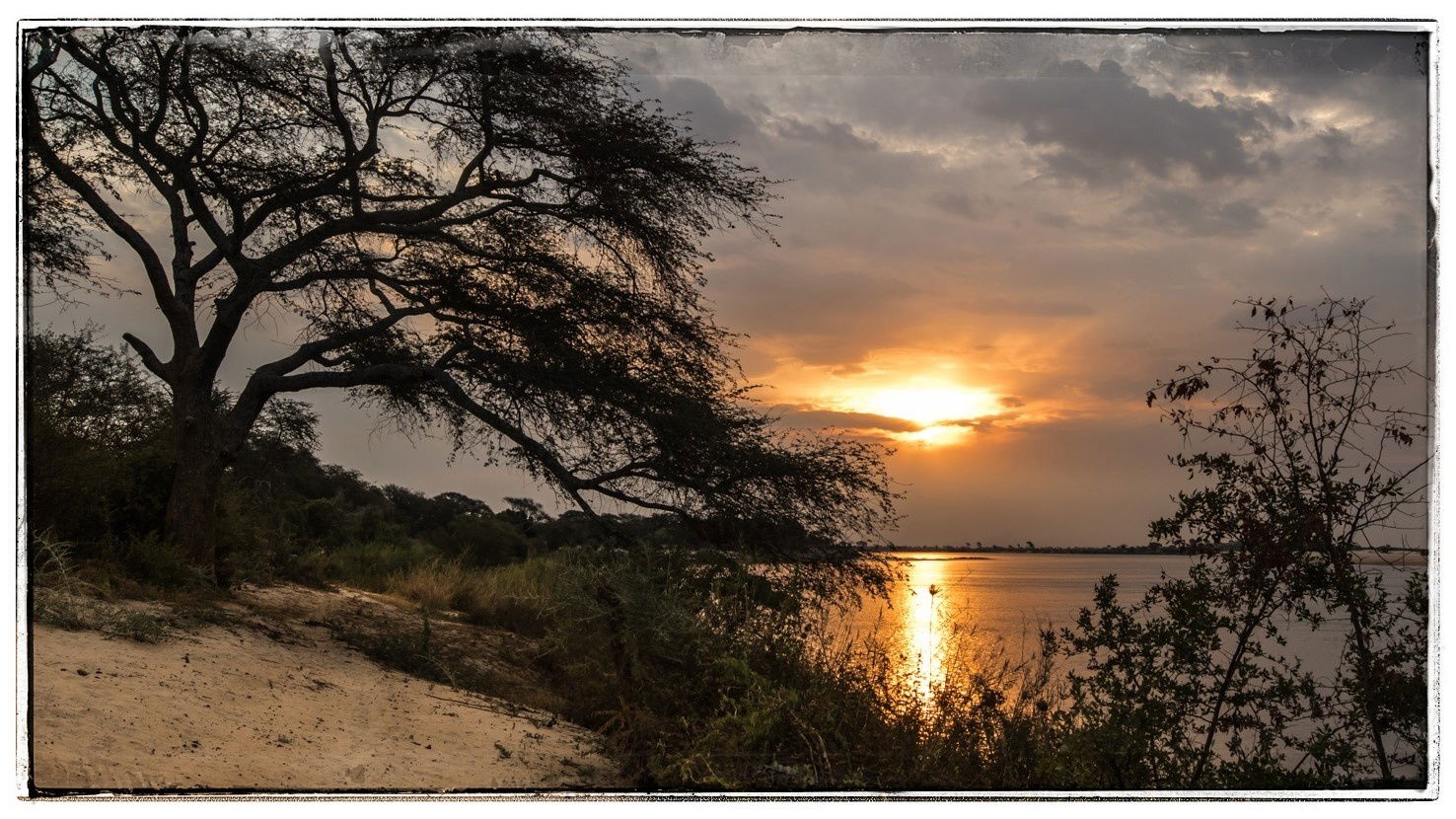 Day 07: 245km
Two-hour drive should put us right at the gate of Kasanka National Park. This peaceful sanctuary, situated on the south western edge of the Lake Bangweulu basin, is one of Zambia's smallest national parks. It's 450 km2 however, are so well endowed with rivers, lakes, wetlands, forests, lagoons, meadows and dambos that it supports a uniquely wide range of animals and abundant birds and fish.
The Great Wildebeest Migration, the biggest animal migration on earth? Nope.
While many believe that the great Wildebeest migration in Africa is the largest mammal migration on earth, this is a common misconception. So, what could surpass the over 1.5 million wildebeest trekking between Tanzania and Kenya?
Bats. Yes, bats.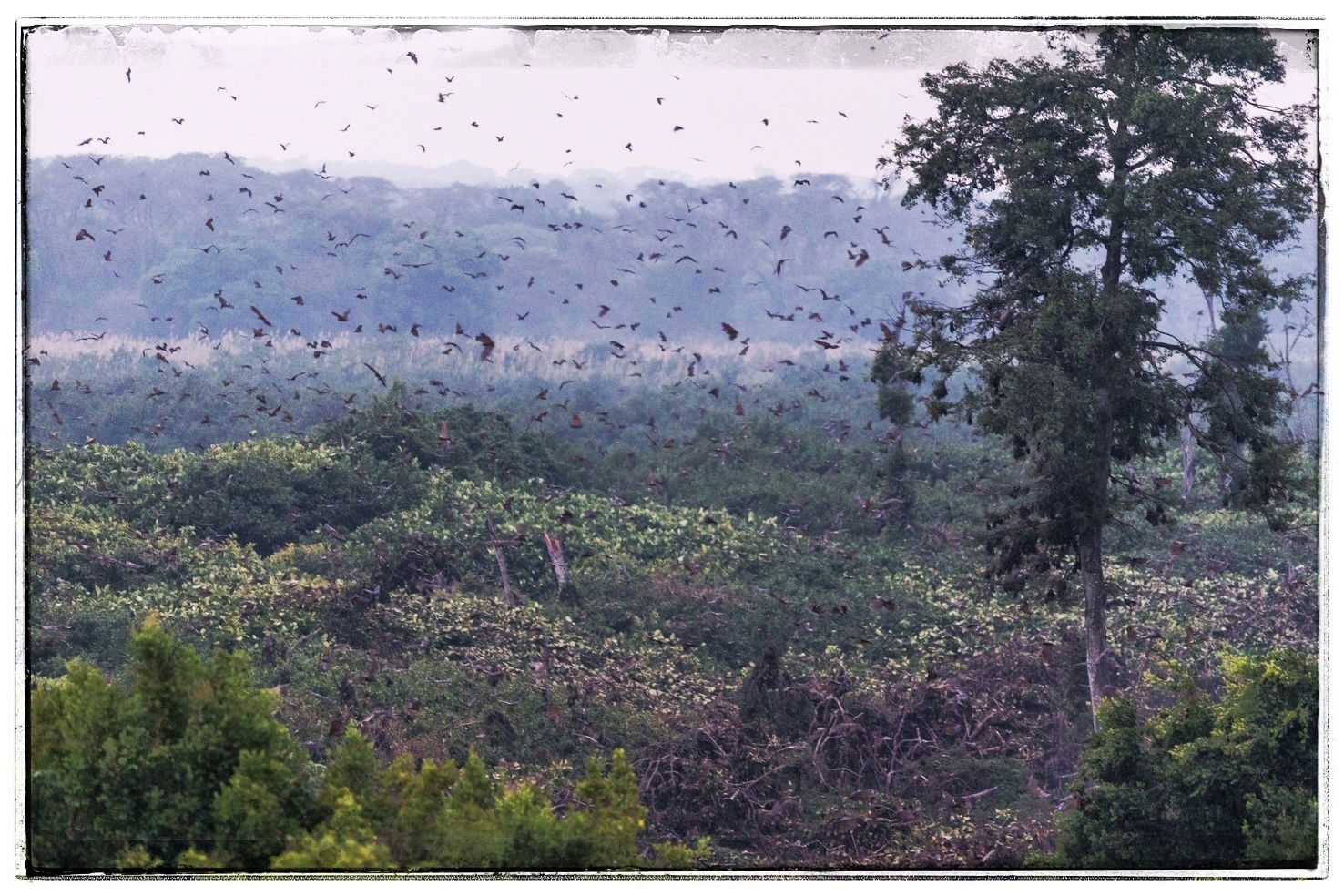 Between October and December each year, about 10 million fruit bats descend into a tiny patch of evergreen, swamp-forest (mushitu) inside Kasanka National Park, in Northern Zambia, from the neighbouring Democratic Republic of Congo. These are giant fruit bats – also known as flying foxes – with straw-coloured bodies the size of puppies, and wings that span almost three feet.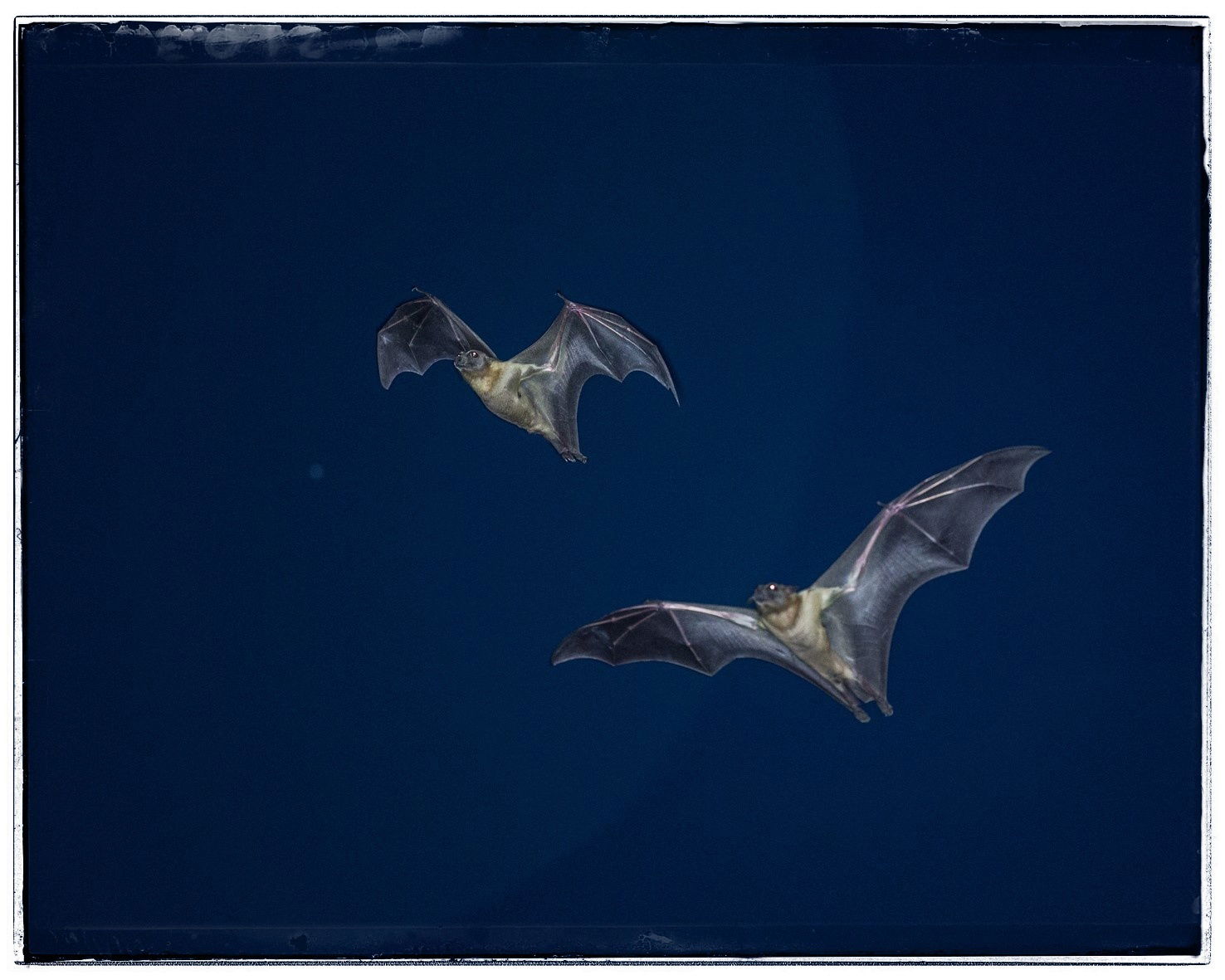 Straw Coloured Fruit Bats before sunrise returning to the forest. Wingspan up 80cm.
They come in search of the water berries, mangoes, wild loquats and red-milkwood berries that appear in abundance at this time of year. These bats are one of the most important migratory animals when it comes to regenerating the forests of Africa.
Each will feast on around two kilograms of fruit nightly, collectively adding up to around 6 000 tonnes of fruit. The bats then head off on their long migratory path, spreading seeds through dropping their faeces, assisting with the growth and ultimately the regeneration of the land.
We take up camp and arrange for our activities.
Camping: Pontoon Campsite – Dinner included.
Day 08 & 09: Two full days in Kasanka.
Kasanka is also a bird paradise with over 330 bird species have been recorded, including such rarities as Pel's fishing owl, the Pygmy goose, Ross's loerie, the Osprey and the Wattled crane. If you're lucky, you'll catch a glimpse of the rare shoebill stork. Normally by early December they have left, and sightings are rare. We will take it up with the park and who knows, maybe we are lucky. Don't book this tour just for the Shoebill stork, we might not see them, but hopefully will.
Camping: Pontoon Campsite – Dinner included.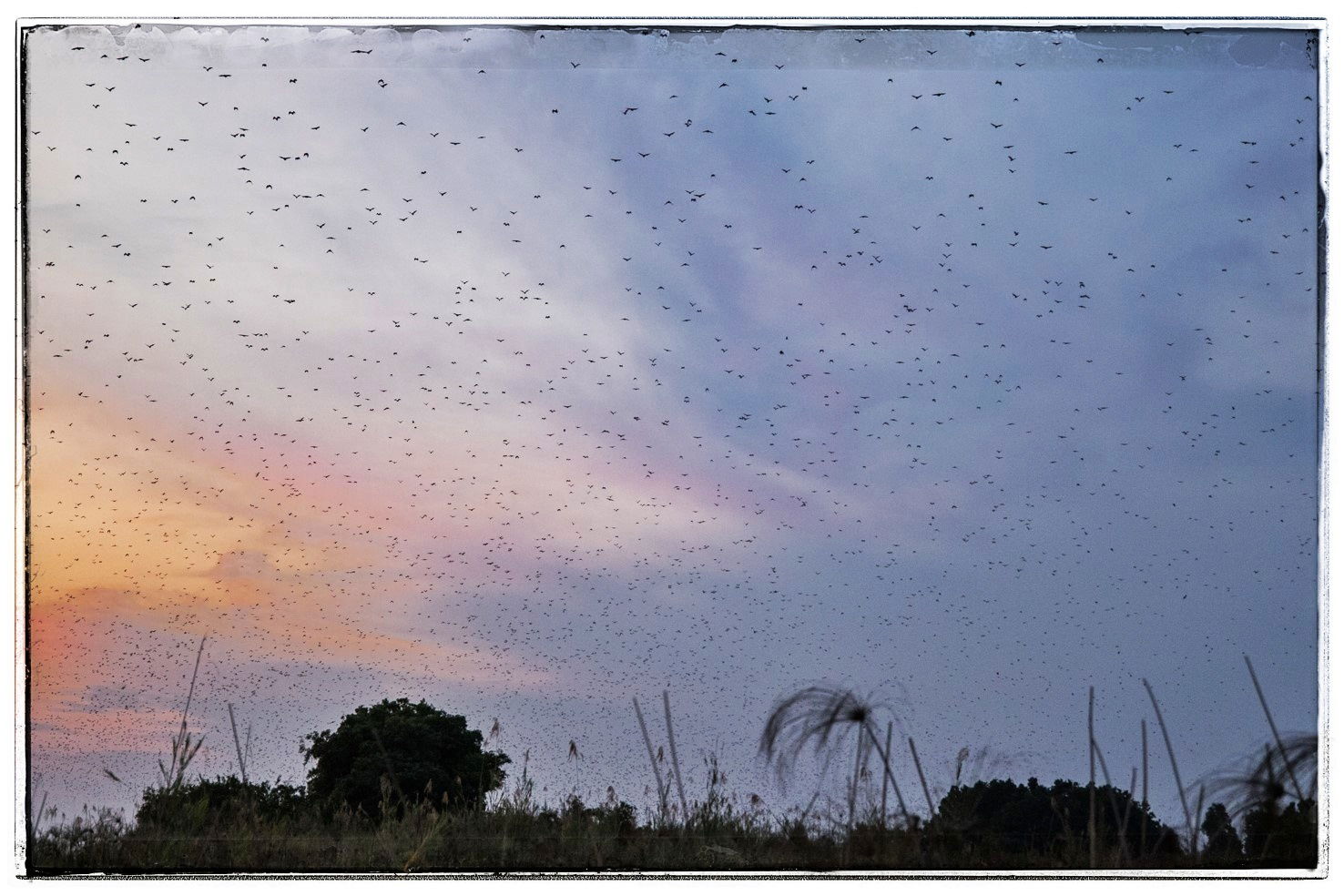 Day 10: 690km
It's time to turn back, we head out and work our way down the very busy road towards Lusaka again. The town is busy, and we push through for about two more hours and take up camp at The Moorings Campsite.
Camping: Dinner included.
Day 11: 330km
Livingstone today where we will have the option to visit the great Victoria Waterfalls from the Zambian side. You can also cross over into Zimbabwe for lunch at the ever so smart Victoria Falls Hotel. From there we drive 50km to camp Nkwazi where we will spend our last evening together and say our goodbyes.
Camping: Dinner included.
End of our tour.
---
Tour Price: 2023.
Adults: N$ 17,950.00
Child Age to 5: No Charge.
Child Age 6 to 12: N$ 5500.00
We charge no single supplement on this tour.
---
Tour Dates: 18 to 28 November 2023
---
Included in the tour:
All camping fees.
Park entry fees.
2 Meals a day, dinner and breakfast.
Two-way radios for vehicles.
Excluded:
Border cost.
All excursions.
Travel and medical insurance.
Any accommodation upgrades or cost due to tour plan changes.
It is very important that everyone carries enough fuel.
Your vehicle must at least have a 1000km range, in normal circumstances. Please do your own calculation, as you know your own vehicle best.
Costs are based on current government taxes and regulations, should this change we will have to adjust the tour cost accordingly.
Please ensure that you are holding a valid passport (Expiry date must be 6 months after date of return with at least 2 empty pages).
Please ensure that you have sufficient medical evacuation and travel insurance.