Getting there.
We meet the day before departure in Lüderitz. Use this day to fill up with fuel, enough to cover about 500km, that is sand driving conditions. Later the afternoon you will meet Jakkals and the team. We will help you to set-up "coms" in your vehicle by installing two-way radios. A good or recommended place to stay in Lüderitz is Obelix. We will make a group reservation on your behalf to ensure that the whole group stays together. Please try and be there not later than 17H00.
The evening we will enjoy dinner together and give you a briefing as to the plans for the next day.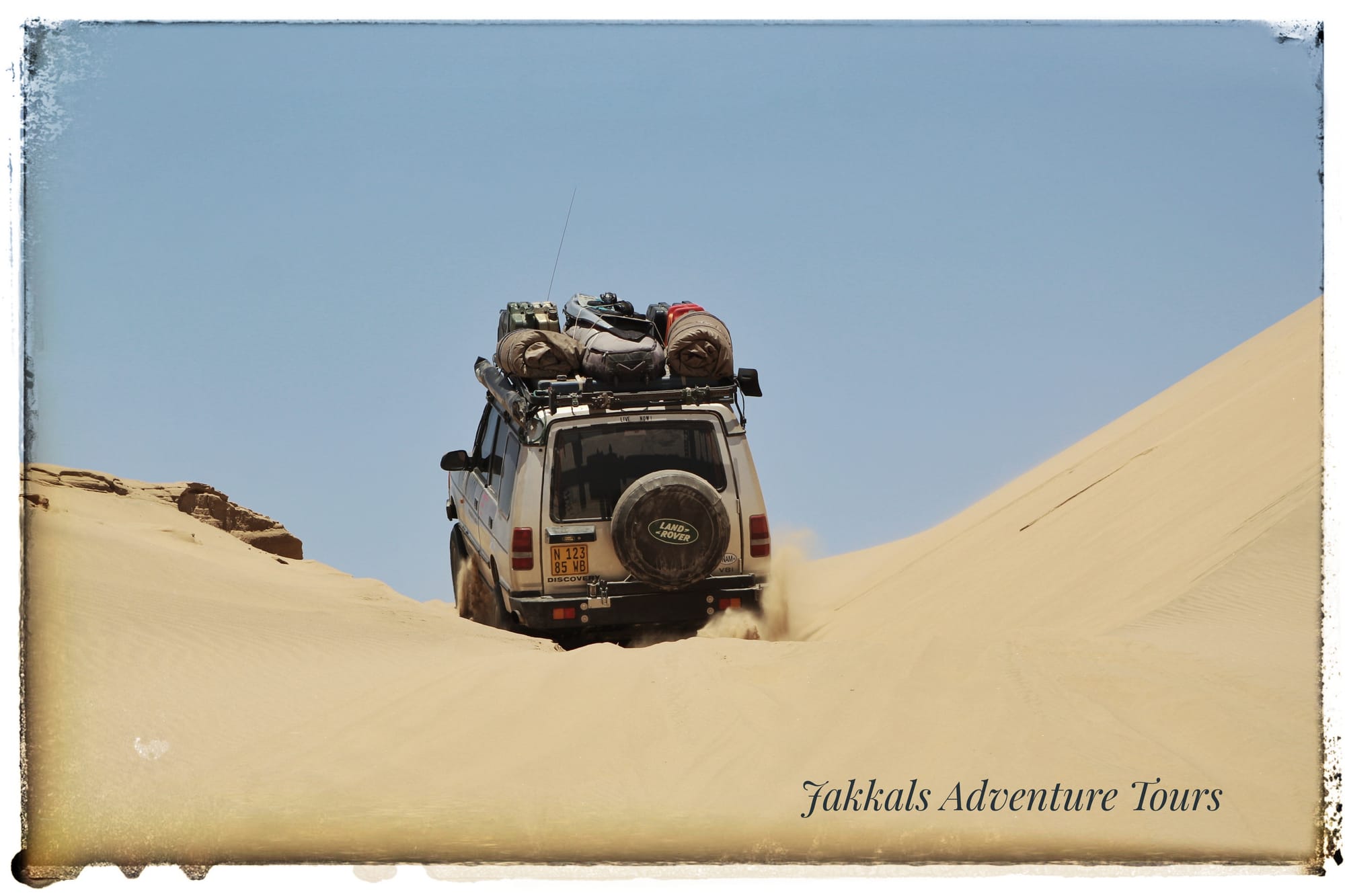 Sand driving from the go.
The Camp Site.
The Saddle Hill concession was closed for a very long time with no tours running through the area. There is a base camp that is currently being renovated and should be done soon. Saddle Hill base camp offers warm water showers, flushable toilets and a dinner hall, where we can "wine and dine" ,in the chilly Namib Desert evening weather.
The rooms are useable and already equipped with a good quality bed, you just need to bring your own bedding.
What must I bring for the camp?
Each vehicle will have to carry the following:
Two large bags of wood.
50 liters of shower water per person. (the water at the camp is very brackish and doesn't make for a good fresh shower).
Drinking water for yourself as well as your own beverages and ice.
Bring your own bedding for the rooms. (There are beads but no bedding).
There are no power at camp so you will have to be self sufficient with power for your appliances.
Enough fuel to cover 500km, heavy sand driving.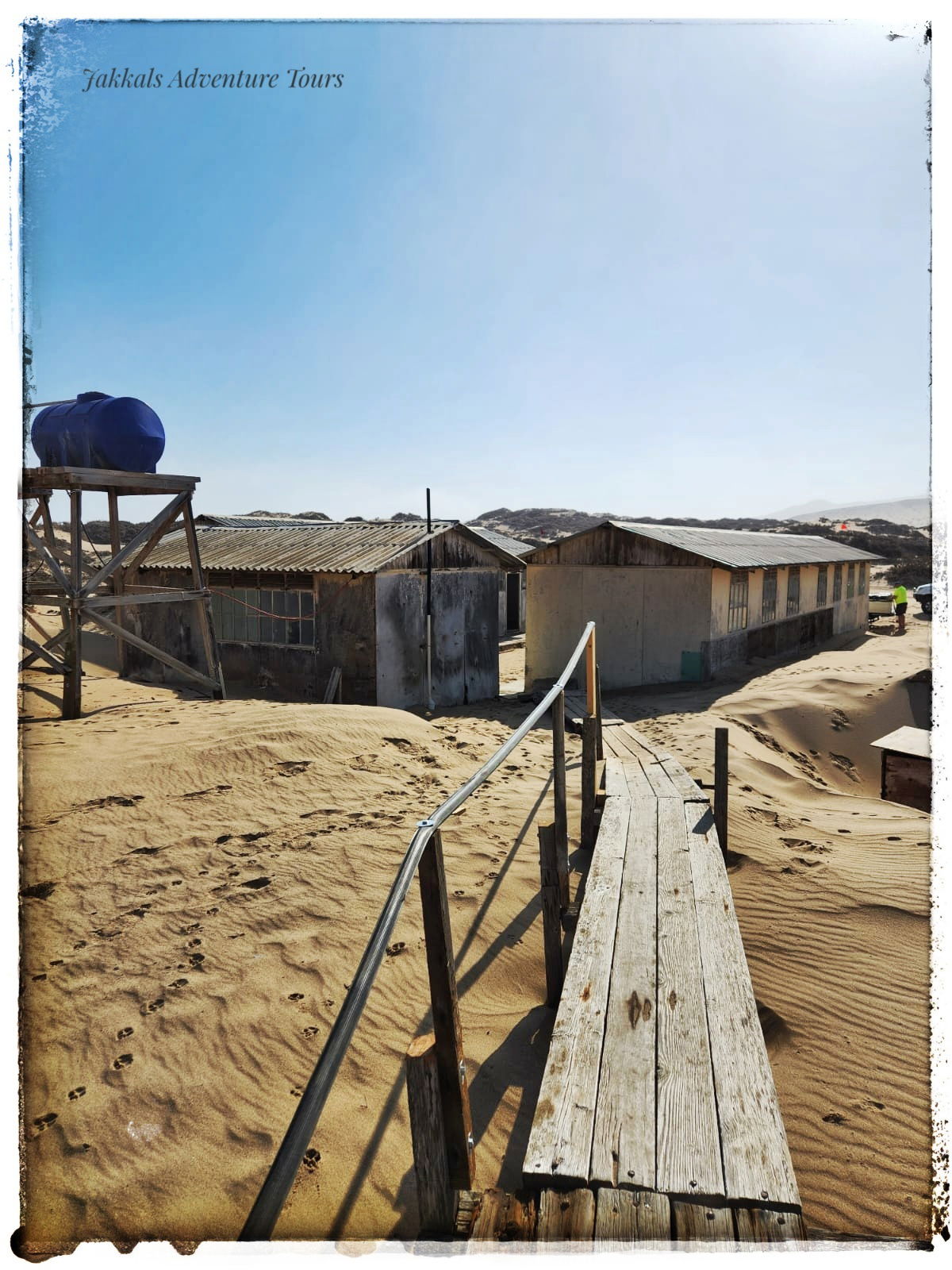 What can I expect from the tour.
Day 01:
Not long after we left Lüderitz we turn in to the dunes. Tyre pressures have to be adjusted and a small safety briefing will be held. It's not long before the dunes, taking us to base camp, gets "busy" because the dunes are high, holes are deep and the sand is soft. Our vehicles are loaded and heavy, we "rev" them up to jump the dunes, but this is why we are here, we want to drive dunes and enjoy ourselves.
Depending on what time we reach base camp we will unpack and settle in for the days to come. If the day allows us, we will head out into the dunes for a well deserved sundowner.
Day 02 to 04:
Saddle Hill South to visit the old mine and the old earthmoving equipment left behind that is now left in the "hands of the Namib". We drop onto the beach and make way past very large rockpools where you will experience a cave where the waves forces water through making for a pretty water spray display. We continue all the way to Gibraltar which is our turning point for the day.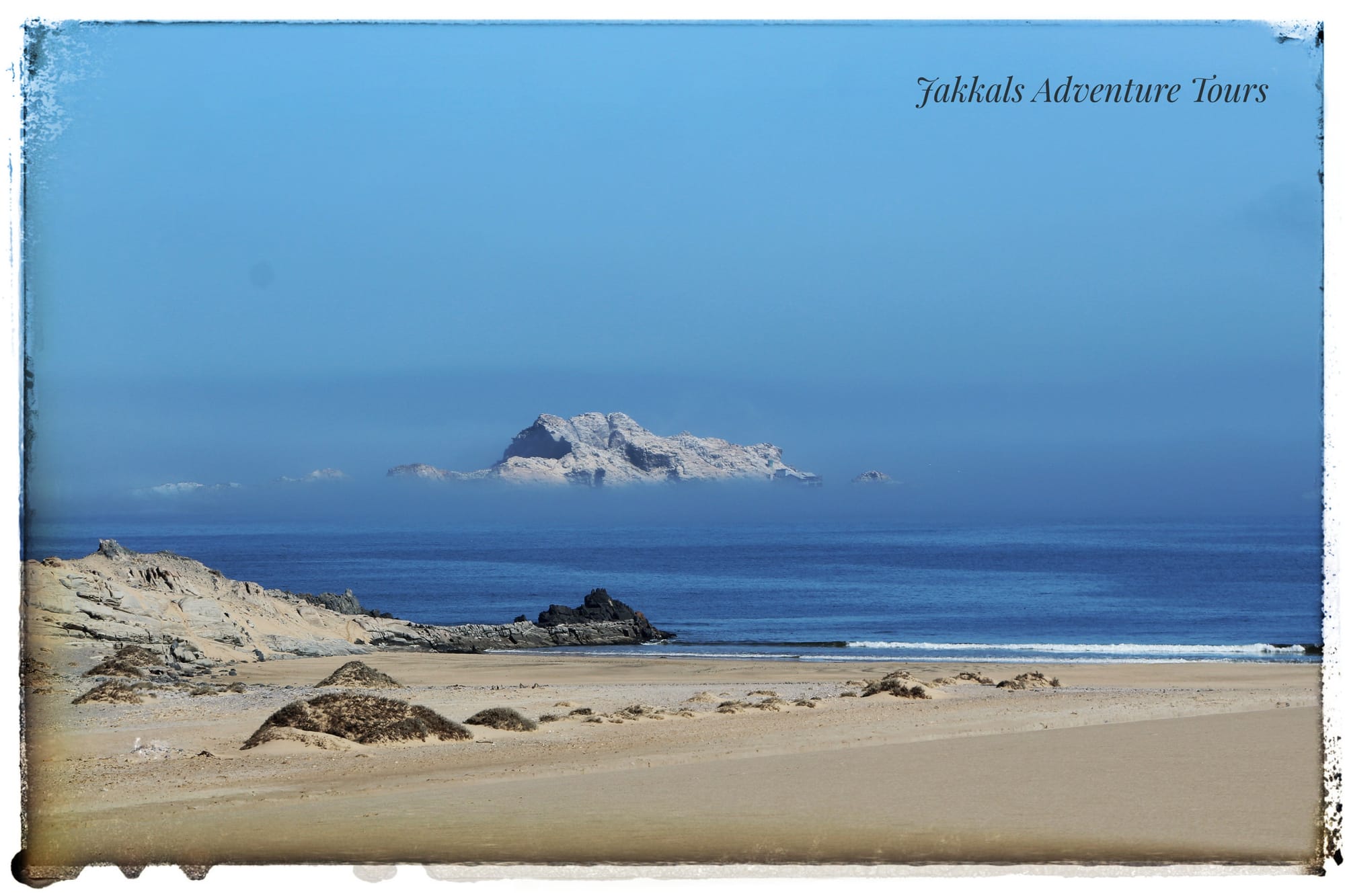 View of Mercury Island.
Spencer Bay beach where the "Otavi" is stranded, a ship that was used to transport guano from Mercury Island. "She" can only be reached with a small hike on the side of a cliff to where its been guarded by a Seal Colony in the bay. The vessel ran aground in the 1945. From there we continue to Mercury Island and "The Top of the World" viewpoint.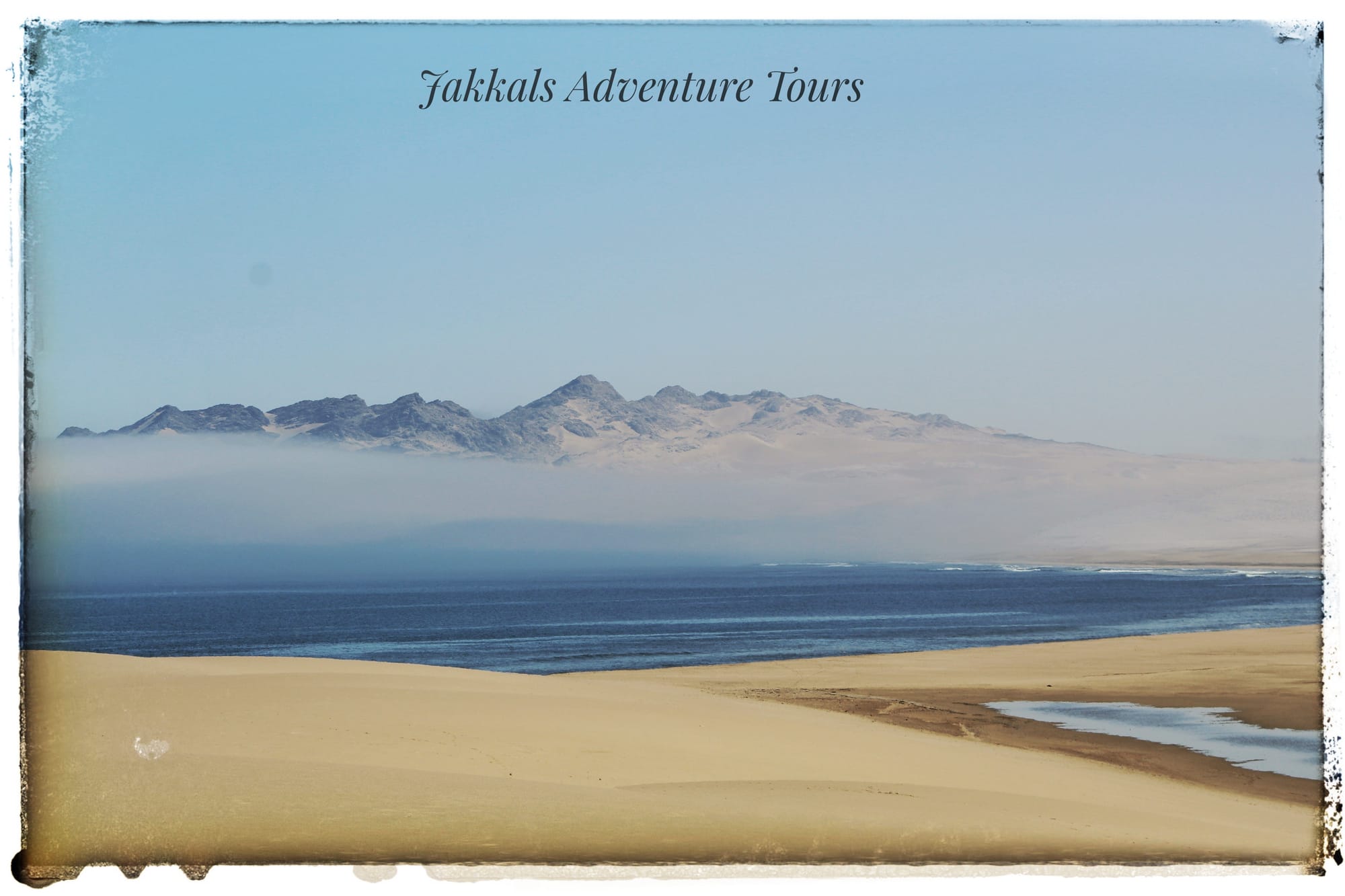 View of Spencer Bay.
United Trader, a vessel that ran aground in the early seventies with 700 tons of explosives onboard. The vessel was blown up in 1974 with pieces of metal that can be found for kilometers into the dunes. Some folks say they even felt the explosion in Lüderitz. We continue and go visit what is left of the "Tong Wha", a shipwreck found at Albatross Rocks, where the Namib is busy covering it with a sand blanket.
Shipwreck of the Tong Wha.
Last day, exploring the area and visit an old spring where the Oryx and Springbuck drink water. We "rev" motors up more making way through the dunes, yes we want to test our sand driving skills and maybe push your own limits. Dune boarding and enjoying the day "Sand See" of the Namib before we head back to get ready for tomorrows road back to Lüderitz.
Day 05:
After breakfast we depart for Lüderitz, trying to be there not later than 13H00. For those who want to take it easy can enjoy the afternoon in and around Lüderitz. But for those who need to get home, you will get well on your way that afternoon for your trip home.
End of Tour.
Tour Price:
Adults: N$13,500.00
Child Age to 5: No Charge
Child Age 6 to 12: N$5500.00
Included:
2 Meals: Breakfast and Dinner.
Experienced guides with own vehicles.
Two-way radios for vehicles.
Communal fees, permit and concession fees.
Excluded:
First evening accommodation and dinner in Lüderitz.
Visa cost.
Border costs.
Travel and Medical insurance.
Beverages and water.
Last night accommodation in Lüderitz if you decide to stay.
Any accommodation upgrades or changes to the tour plan.
Camping equipment.
Notes:
Costs are based on current government taxes and regulations, should this change we will have to adjust the tour cost accordingly.
Please ensure that you have sufficient medical and travel insurance.