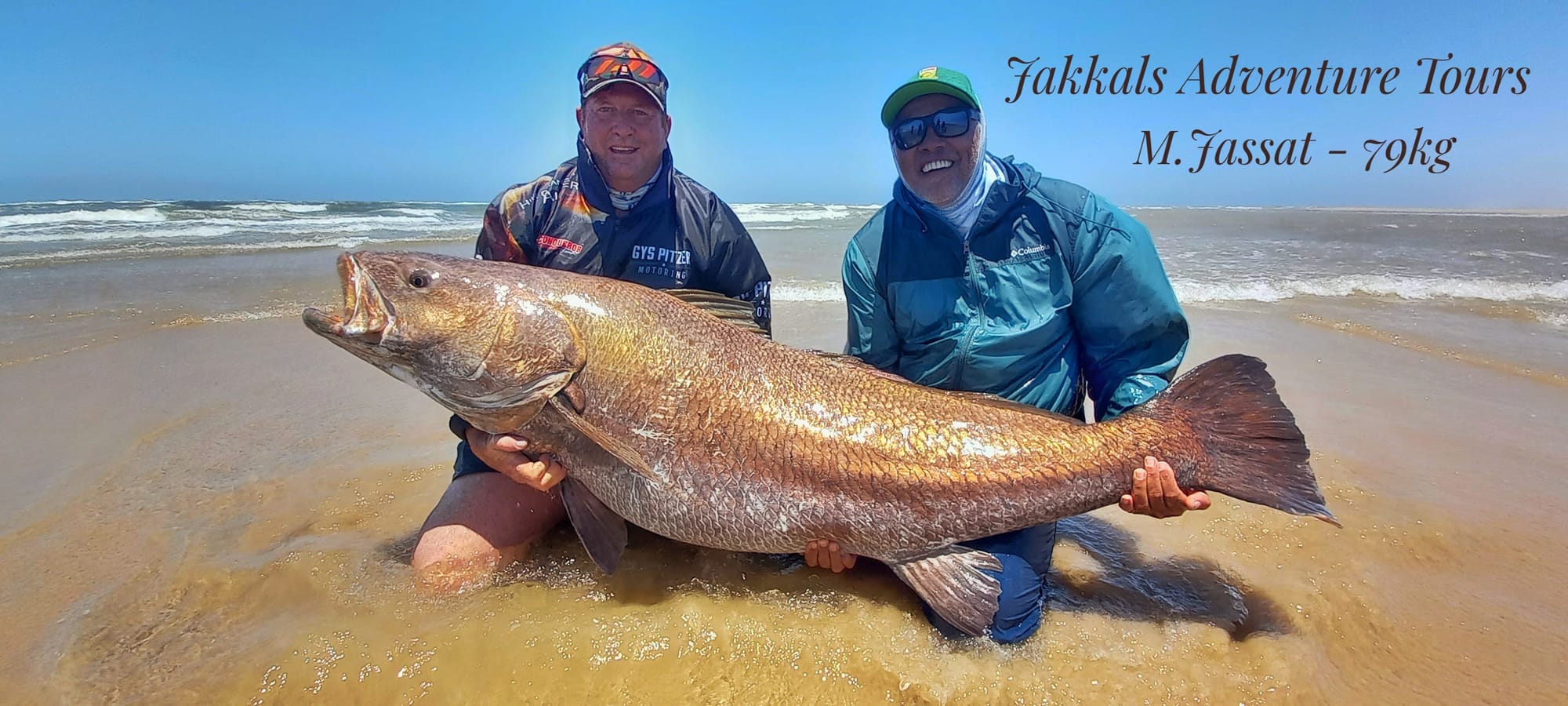 Meet and Greet:
Depart for Kunene:
Day 01: Just short of Camp Kunene.
Kunene is 350km of rough driving from Terrace Bay. You can only do it with a 4x4. The trip will take about 10 hours to complete. We don't supply any food during this day so please pack something for lunch. We will sleep short of the camp arriving around 16H00, that will leave us with some time to fish the late afternoon shift.
Your dinner is included for that evening, we will have a nice "braai" while camping right on the beach.
Day 02: Making it to Kunene.
This is a very relax day. We serve a good traditional Cowboy breakfast on the beach. You will have time to fish the early morning. After breaking camp, we head out fishing all the good spots along the way to our camp at the Kunene Mouth. We normally arrive there around 16H00 leaving us time to pitch camp and get ready for the next day.
NOTE: Please do pack your own beverages and ensure that you have enough ice.
Day 03: Full days at Kunene.
We have a camp where we will be staying for the duration of the trip. The camp comes with a kitchen, dining hall, flush toilets, and warm water showers. There are no power so if you need additional power you will have to make plans. Small generator can work to keep your fridges going during the day but won't be allowed to run during the evenings. You will have to bring your own.
We will fish for four full days at the Kunene area. If the mouth area is "ON" you will be kept busy but other from that we do fish allot in other areas that presents good fishing as far as 45km away.
It is always a good plan to bring your own small gas stove for your own private cooking if needed.
Depart back to Terrace Bay. You can either stay over in Terrace or push on home, we are normally in Terrace round 15H00 on this day allowing you ample time to reach Henties Bay.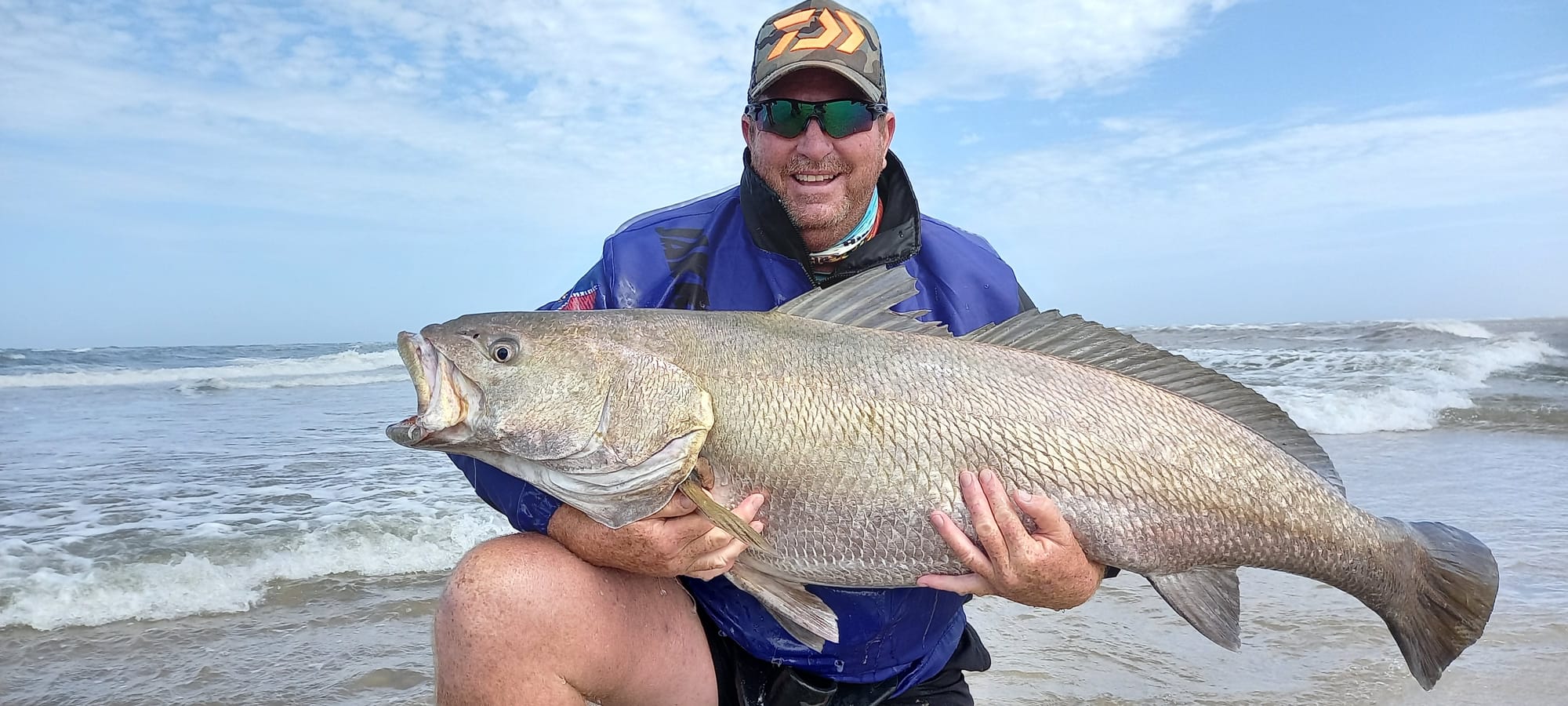 What to pack:
Own camping equipment – Tent, beadroll, ground sail, chairs, and anything else to make it comfortable for you and your family.
Own cutlery and crockery.
2 Large bags of wood per vehicle. Maybe more depending on tour. We will confirm prior to departure. Buy your wood before Terrace, wood is very expensive there.
Drinking water for yourself. The water up at our camp is pumped straight from the Kunene and is not for drinking.
Beverages, snacks, and lunch.
Strong garbage bags. We recommend the heavy-duty ones you use in your garden. Clients will have to carry their own garbage / waste back after the tour.
Personal items such as medication, sunblock, flashlight, camera, batteries etc.
Insecticide, such as Doom and Peaceful sleep.
Your vehicle:
Make sure that your 4x4 is mechanically fit.
It's always good to carry a pump and pressure gauge.
Spare wheel.
Recovery point / hook – Your vehicle need to have recovery points in the front and rear.
NOTE: We carry all necessary recovery gear, we got you covered.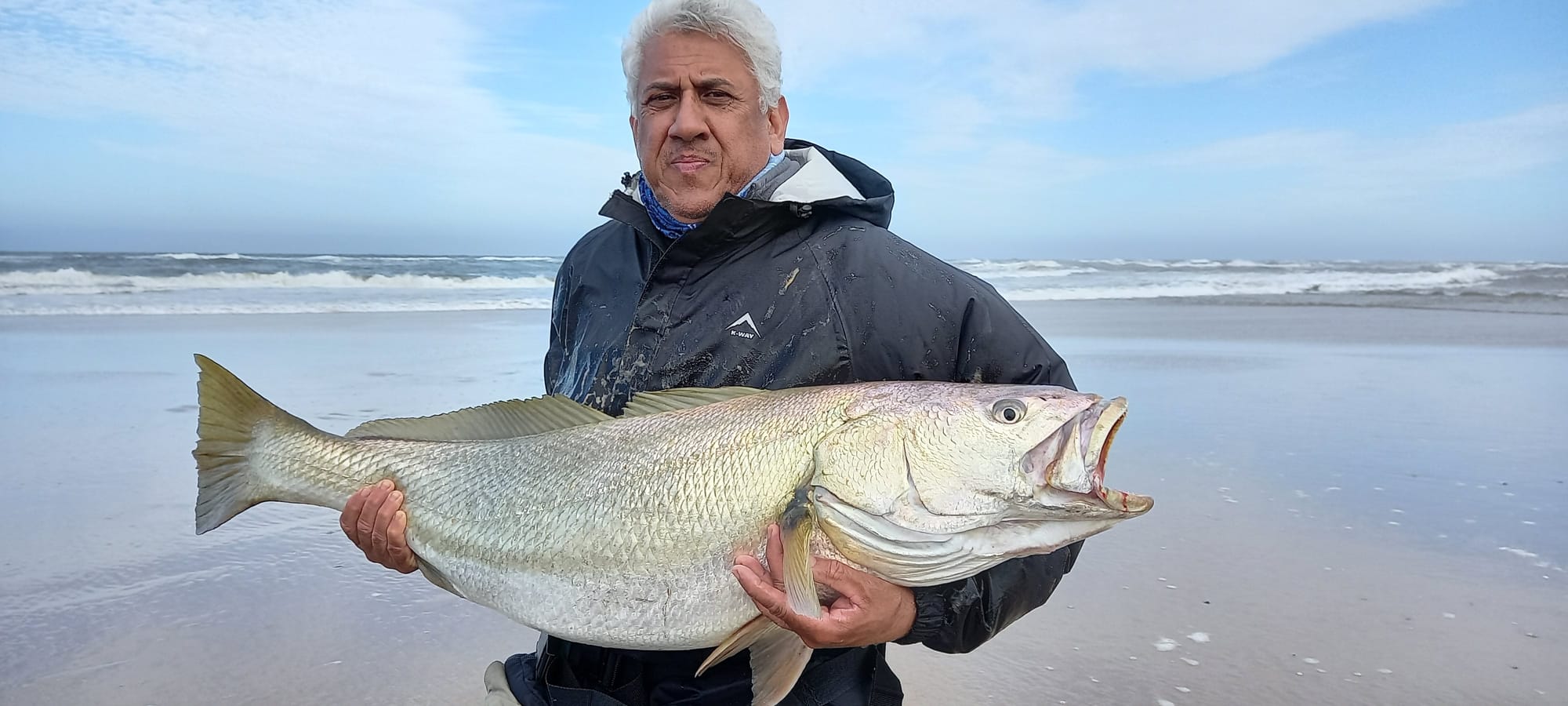 Fuel for the trip:
You will need fuel for 700km to the mouth and back calculating on 4x4 driving conditions. You normally use about 20L more coming back than going. This is due to driving against the wind.
Then you would in "worst case scenario" that is if we must go in search of fish need about 20L per day. The total distance Terrace to Terrace is about 1000km, including fishing.
Example: I have a 2.8GD6 diesel Hilux. I take 300L total from Terrace Bay. You are welcome to call me and discuss your fuel situation. Take rather to much then to little. This is a trip of a "Lifetime", go prepared.
Special notes:
Travel insurance and medical evacuation: Clients need to take out their own travel insurance and emergency evacuation cover in case of emergency. It is compulsory.
Emergency contact number if you need to be contacted: Sat-Phone: +870 776 177 019
If you need to be in more frequent contact, please do bring your own Sat-Phone.
What is included in the tour price:
All Park fees, concession fees and governmental fees from the day we depart Terrace Bay.
Tour guide and helper with their own vehicle.
Recovery equipment in case anyone get stuck.
Two-way radios. Base stations in the vehicles.
Coffee and rusks early morning, and a proper breakfast later the morning. Dinner in the evenings.
Hot showers and flush toilets at Camp Kunene.
Minimum tackle requirements for fishing at the Kunene Mouth:
Fishing can be hardcore up at the mouth and you need to be prepared for it. We fish with heavier tackle to prevent the subsequent loss of fish as well as tackle, we don't want the Mouth area to be clocked up with fishing line. If you cannot comply with these minimum requirements, you are unfortunately not allowed to fish in the Mouth area but can fish South from the Mine entrance.
6 Ounce, 14ft rod. You need to be able to make a good cast in some areas. If casting isn't your strong point, we can assist you. Some areas the fish are very shallow as well.
Fishing reel with plus minus 600m capacity for minimum 40lb braid.
For your leader line you will need min 100Lbs Braided Leader Line.
For your trace we use 1.0mm and 1.2mm Mono.
90lb Wire for the trace.
Circle hooks ONLY. We fish with good quality 7/0, 8/0 and even up to 9/0. Use hooks that has a thick shank. Cheap hooks tend to pull open or even break clean off. Mustad makes a good Tuna Circle that performs well.
NOTE: No J-Hooks will be allowed.
Dingle Dangles, medium works well.
Power swivels.
Cotton, we recommend the heavy one for winding bait.
Sinkers, the wire grab sinkers work best.
Then bring your fishing tackle you will need for the trip, cutting board, rod holder, Chokka hammer and so on.
If you need to add tackle you are welcome to contact Grumpy at Bushwhackers in Swakop, he understands fishing especially up at the Kunene and will guide you to buy the correct tackle without overspending.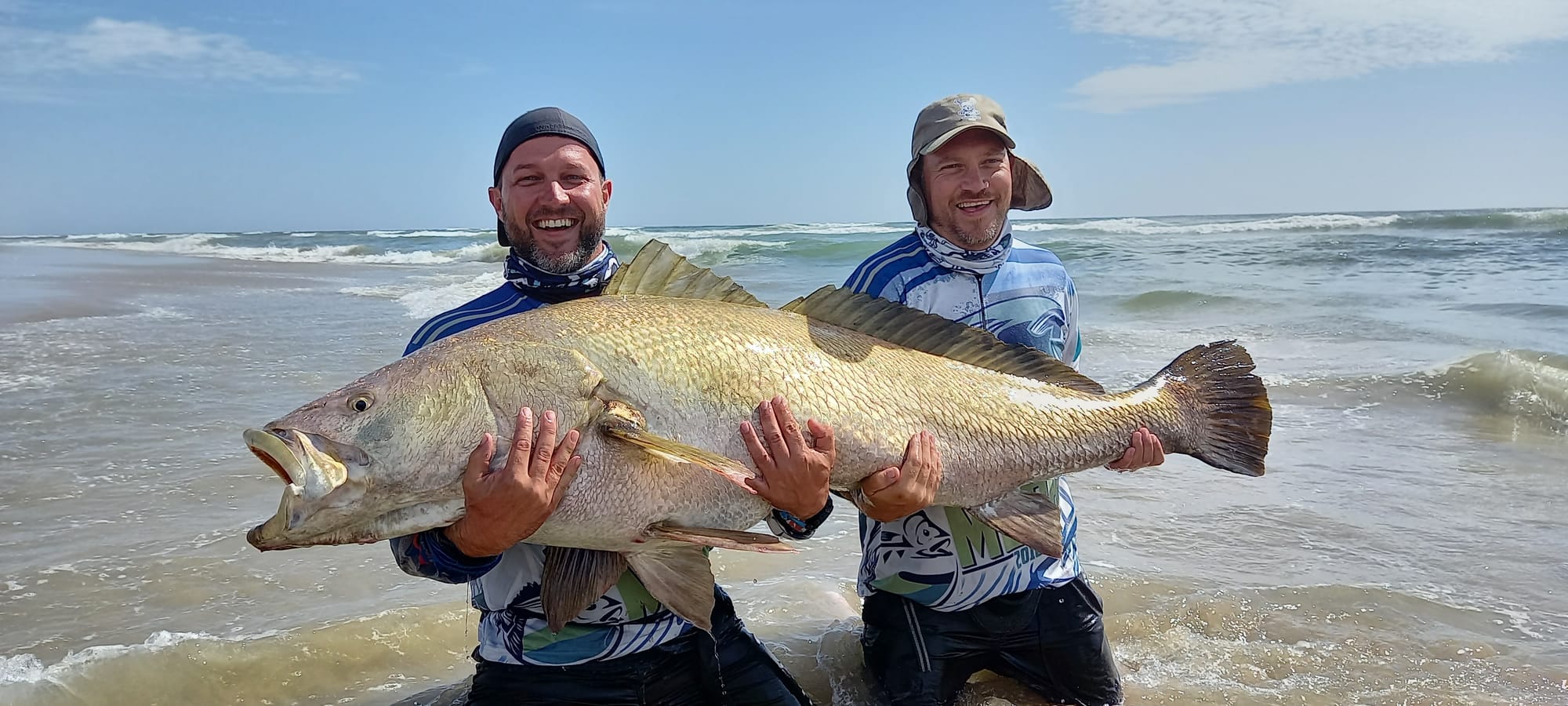 More on tackle – for interrace sake:
Lures
Chisel nose plugs (white, pink, green) work very well, but not the large ones. Garrick at the Kunene are seldom over 6 kg and prefer 1,5 or max 2-ounce plugs. It will not harm to have a few bigger lures, just in case. Poppers work maybe even better than plugs, but again, the size is important. Big ones (18cm+) do not work. Fish chase them, but seldom hook up. We do not use treble hooks at all, single hook only.
We prefer you not to use any spoons. We have a particularly good reason for that.
But yet again, don't spend to much money on lures.
Bait:
It is very important to keep your bait frozen or very cold. To do so you need to cater accordingly with your fridges and ensure your power supply is sufficient.
Pilchards do work for cob.
If you want to catch Bronzy, don't buy bait for them, there is enough bait around for that.
If you have a cast net you can cast for Harders. They aren't always present, and you might not get any. I normally make a few casts to try and get some, they are excellent bait.
Chokka and Octopus "Seekat" work very good. I recently noted that Grumpy at Bushwhackers in Swakop have good bait available. Bring enough.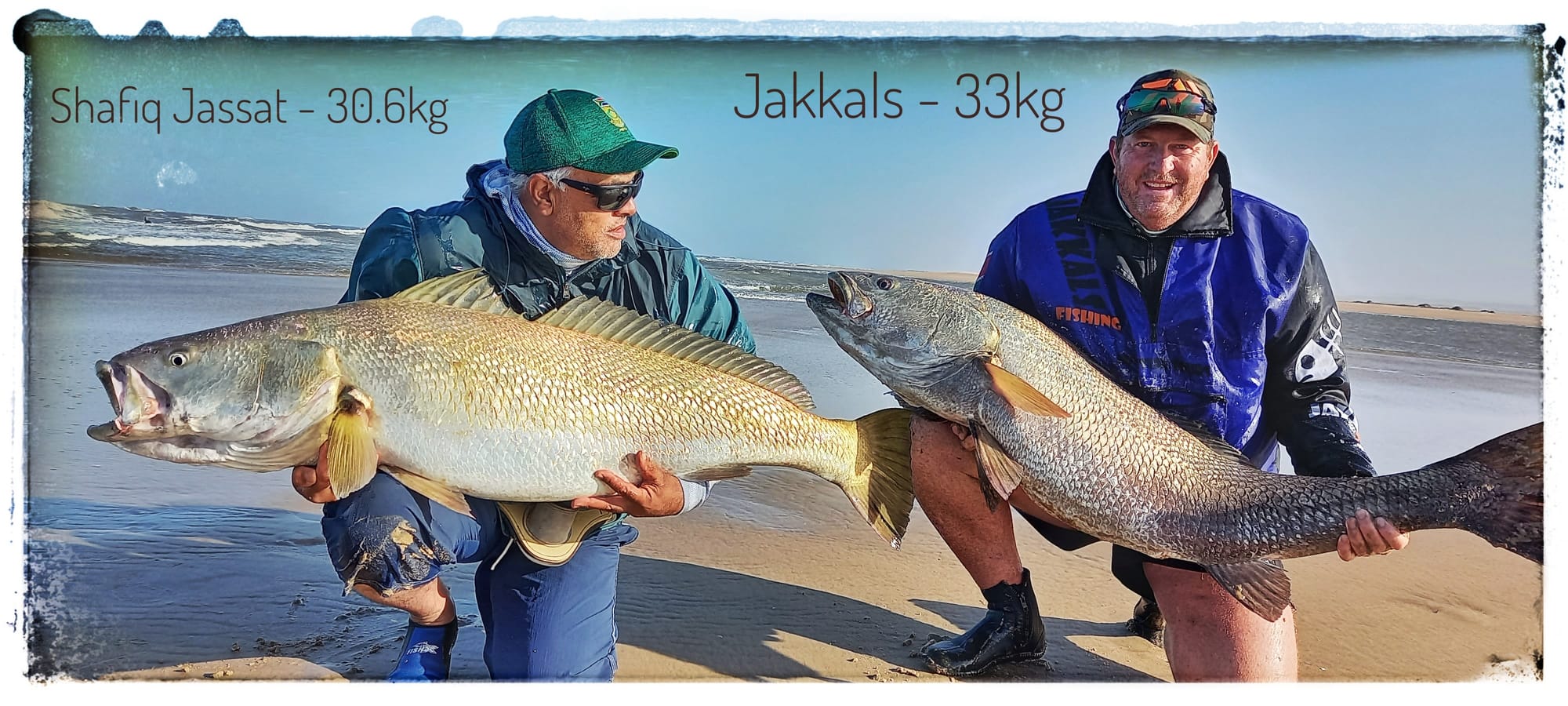 Species available:
Dusky Cob, Silver Cob, Steenbras, Garrick, Shad, Blacktail, Spotted Grunter, Bronzy, Cow Shark, Spotted Gully shark, Smooth Hound (3 species), Sand Shark (2 species), Blue & Bull Ray, Duckbill, Rough Tailed Skate, Catfish (2 species) and a lot of other species that swim south from Angola when the water gets warmer in summer.
For further information, please don't hesitate to give me a call.
Group Reservations: Minimum of 20 participants:
Dates Available for 2024:
08 to 13 January -

Fully Booked.

23 to 28 January.
07 to 12 February -

Fully Booked.

18 to 23 March -

Fully Booked

14 to 19 October.
Tour Price per person: R12,850.00