The Skeleton Coast, Kaokoland and Damara Land will always be a special place, especially because of its remoteness and is truly one of the last wilderness areas where there are no boundaries. The people of Kaokoland, Himbas, are truly magnificent people that have the means to survive in such harsh environment.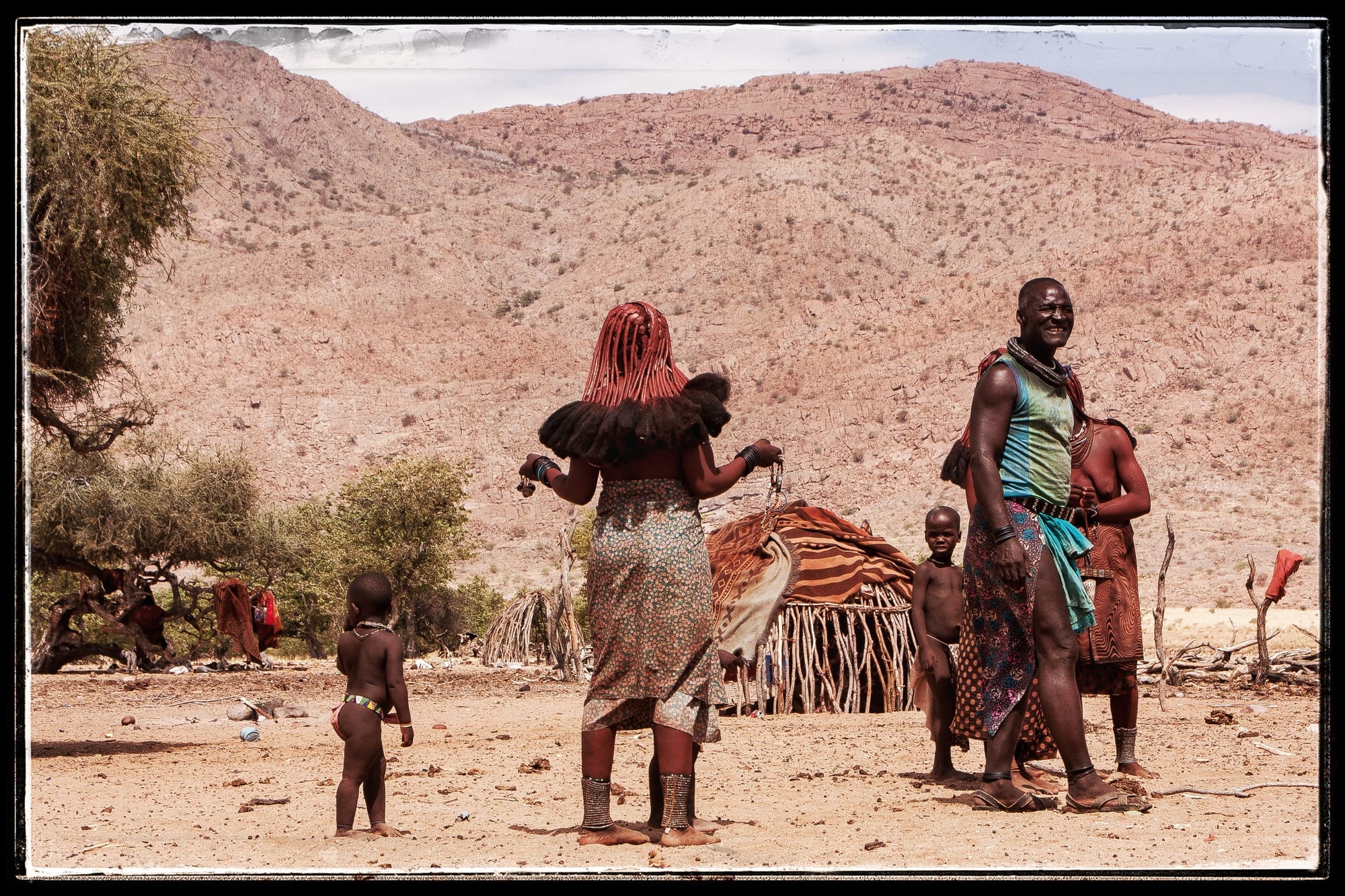 Himba
The Skeleton Coast Park with its ambiance, ephemeral rivers, and wildlife make it a true-life experience and something you should see in your lifetime.
The ecosystem of the area is amassing shaping into landscapes that leave you speechless, more than 180 different species of Lichens, Welwitchias, ancient Bushman Circles and more. And then, just when you think you have seen it all, we reach the mouth of the Kunene River.
Meet and greet day:
Plan your itinerary to arrive at White Lady Brandberg Lodge no later than 17:00 today. Meet Jakkals and fellow travelers at the campsite. There will be a briefing of what to expect the next couple of days.
Please remember to keep your headlights on when driving in Namibia. (Day or night). The welcome dinner will be hosted at the campsite.
O/N Brandberg White Lady. (First night camping not included in the tour package).

Ugab River
Day 01 - 130km
Driving down the Ugab River we head into the red sand hills and pass Land Cruiser hill making our way to Twyfelfontein, but only on the back-roads. Welwitschias, open landscapes and fast open plains will be experienced today. We make a stop at the Burnt Mountain and Organ Pipes.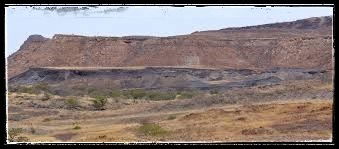 Burnt Mountain
Lunch will be at Twyfelfontein Lodge, quite a nice stopover. From there we will travel to our campsite (Camp will depend on availability). For those who would like to visit the Bushman Engravings can do at their own leisure or just relax and take in the scenic surroundings.
O/N Camping – Twyfelfontein area (To be announced when tour is booked).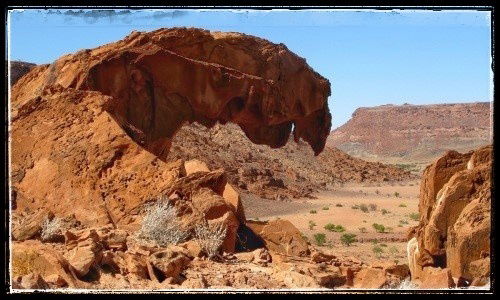 Twyfelfontein - Rock Engravings
Day 02 - 260km
Travelling up the Huab River promise to deliver a very exciting day. Filled with swamps, Anna tree, Camelthorn and Leadwood this river is also the home of the Desert Elephants. With a total catchment area of 14800 square km is quite an experience.
Our camp will be right next to Etosha National Park border fence. So camp close as you just might encounter Lion or Elephant while in camp.
O/N Wild Camping – Beesvlakte.
Day 03 - 295km
Crossing the "Beesvlakte" offers quite a challenge. Its dust is a must see and will test your 4x4 skills to the max. We drop into the Hoanib River and encounter the soft sand of the river, yet another host of Elephants making our way to the Khowarib Schlucht.
If you are interested in geology, this is the place for you where you will see lots and lots of limestone formations, mountains that were molded together by force, unbelievable.
O/N Camping – Sesfontein.
Day 04 - 212km
Passing Sesfontein we drop into the Hoanib River. The Hoanib is the 3rd largest of the ephemeral rivers in the northwest of Namibia. With a total catchment area of 17200 square kilometers, its filled with life.
This is home to the Desert Elephants. These desert elephants are one of a group of only two desert dwelling elephants found in the world… the other in Mali. Driving down the Hoanib River there is a good chance of spotting the elephants. You will notice the body mass of these elephants are lesser while their feet are bigger than the Etosha Elephant. Desert Lion is also present in the river, although hard to spot we do see them quite often.
O/N Camping – Puros area.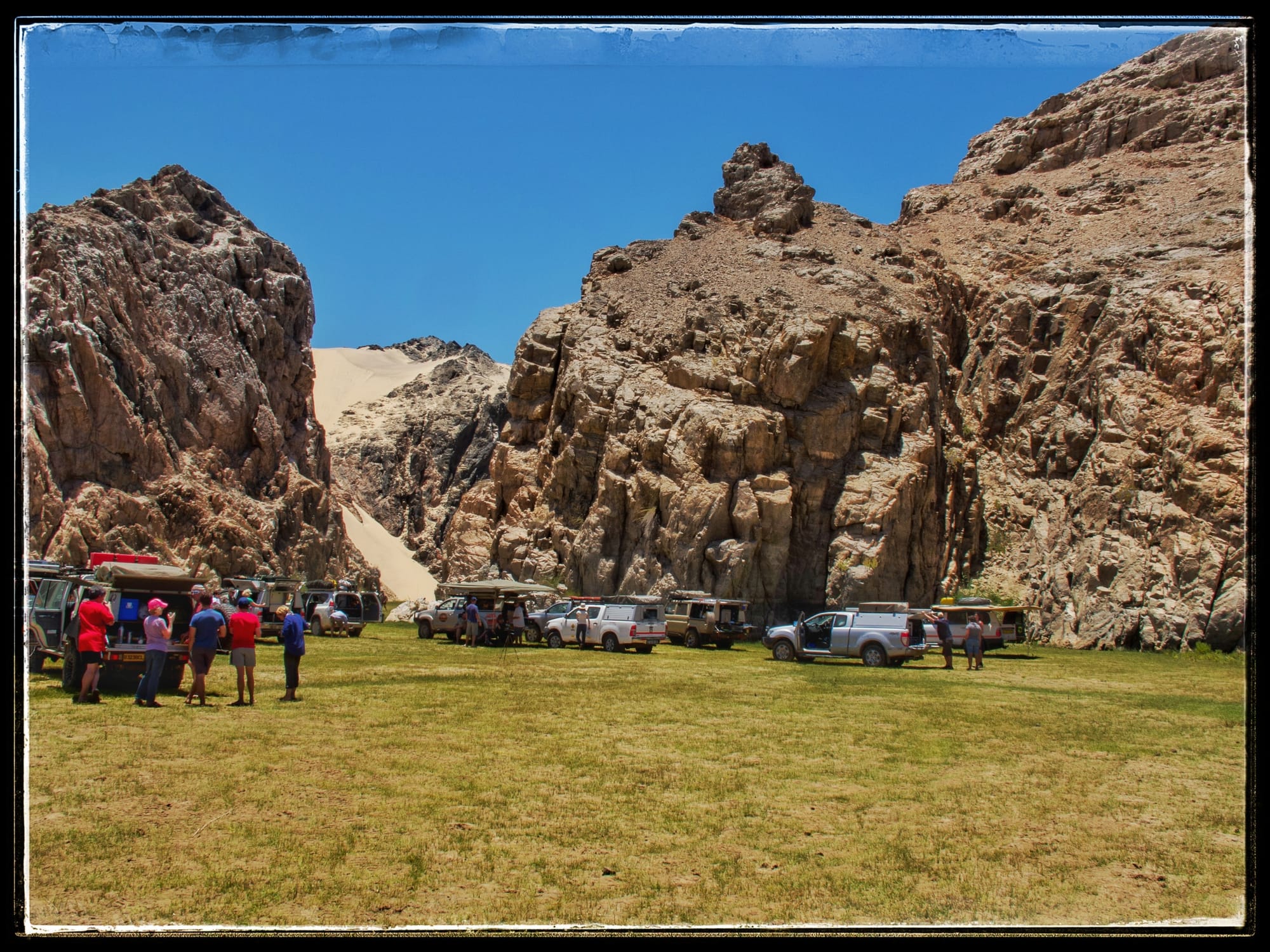 Day 05 - 138km
Exploring the Hoarusib River promises to be an experience, filled with wildlife, birds and springs makes for a very entertaining day. Driving skills will be tested again today as we will encounter mud, rocks and soft sand.
Passing through the Puros Poort, we are heading for the Palmwag Conservancy conservation area. In the concession area there are large populations of Hartmann's Mountain Zebra, Giraffe, Oryx, Springbok and Kudu. The predator population is the largest outside of the Etosha National Park, with over 100 Lions, Cheetah, Leopard, brown and spotted Hyena. We head for the Hunkab Fountains and will sleep en-route.
O/N Camping – Hunkab Fountains.
Day 06 - 100km
Continuing through the hard land of the Palmwag Conservancy we should reach Palmwag Lodge round lunch or even earlier.
Palmwag Lodge is a paradise located on the Uniab River in north-western Namibia, Damaraland. Nestled in a spectacular landscape with waving palms whispering in the wind, Palmwag Lodge is one of Namibia's oldest and most popular tourist destinations.
Bird life is prolific and diverse with most of Namibia's endemics present. This concession supports a healthy population of desert adapted Black Rhino and Elephants, under the management of the Save the Rhino Trust.
O/N Camping – Palmwag Lodge.
Day 07 - 230km
Today we head out for a totally new adventure, Skeleton Coast is on the map. Skeleton Coast was coined its name in 1933 by at the time newspaperman, Sam Davis. Since then the name has stuck and is known all over the world.
We enter the Park at Sringbokwasser making way to Terrace Bay.
Landscapes and solitary is on the menu for today as we will experience some of the most extraordinary landscapes. Our last checkpoint is Mowe Bay, where the Skeleton Coast Park wardens live and patrol the park from there.
O/N Camping – On the beach.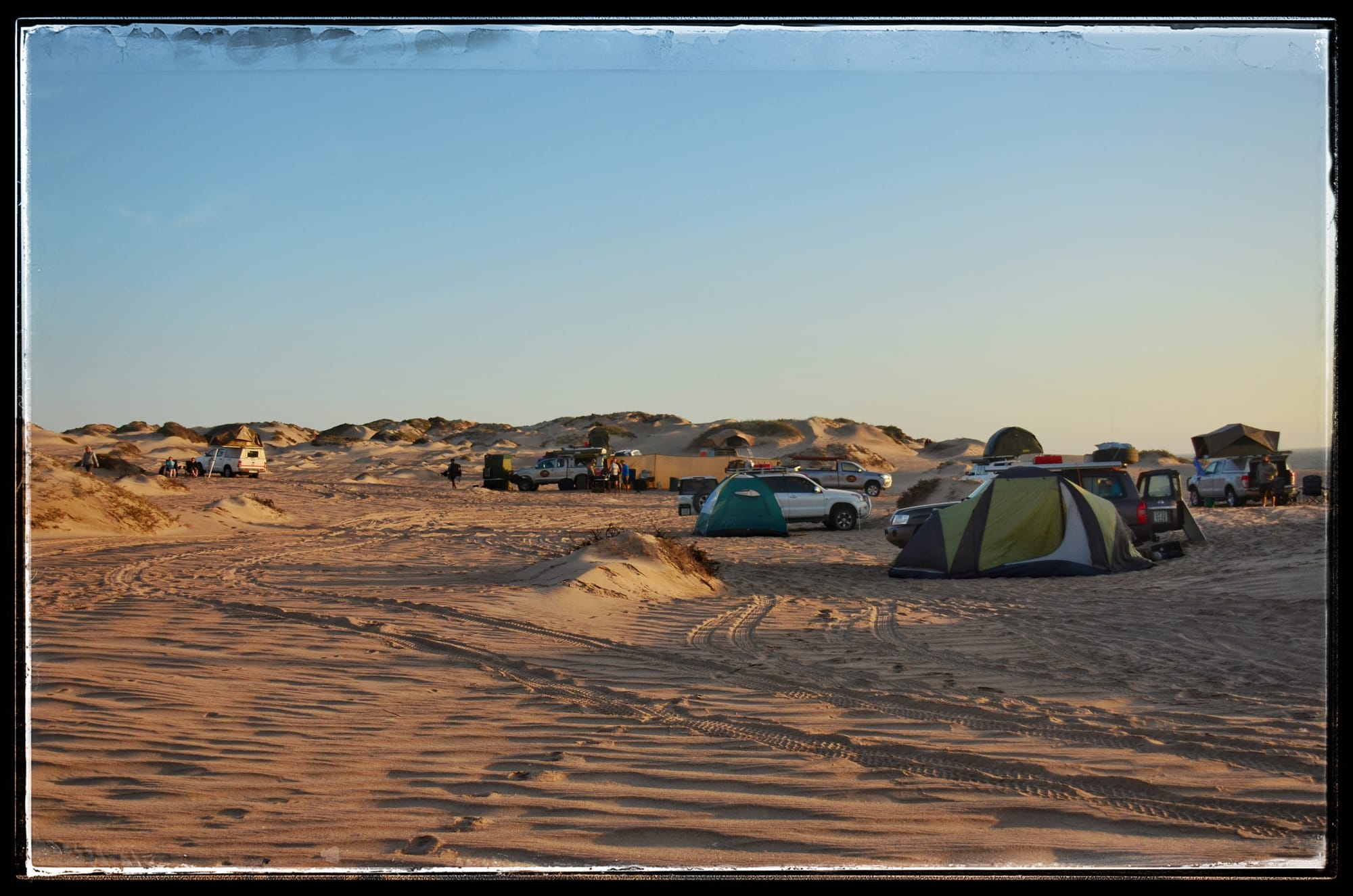 Wild camping
Day 08 - 150km
Our first taste of the dunes today we will drop into the Hoarosub river once again, this time only where it reaches into the Atlantic Ocean.
We take a drive up the river crossing over the Lichen Fields. The landscape is unreal and filled with ambiance. We drop into the Khumib River making our way back to the coast. Interesting point to be visited during the day includes the diamond mining attempts of the Schoeman family, the crash site of the Ventura Bomber that tried to rescue the survivors of the Dunedin Star.
O/N Camping – Cape Fria area.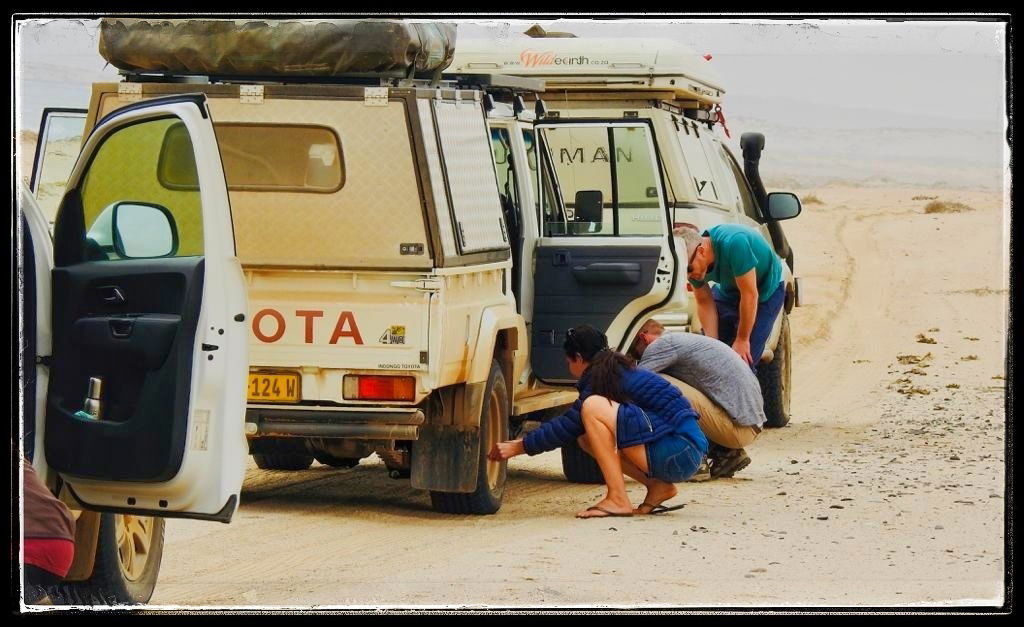 Tyre pressure is critical
Day 09 - 183km
Passing Angra Fria we make our way north to the place where the survivors of the Dunedin Star lived for months until rescued by an overland rescue team. Our destination is the mouth of the mighty Kunene River. Most of the driving that we do today, will be on soft sand. The river mouth changes weekly and always offer a surprise once you get there. It's an unbelievable sight, something everybody must see while it's still possible.
O/N Camping – In the Dunes near the mouth.
Day 10 - 70km
The best way to describe today is "it's not that far, but quite a distance". We cross the dunes from the coast to the Hartmanns Valley, sand is soft, and dunes are high. But don't let this discourage you as the story of the dunes fighting the river makes for interesting scenery and makes this day very enjoyable.
O/N Camping – On the river, Serra Cafema.

Tectonic plate movements
Day 11 - 132km
Making our way through the Hartmanns valley we cross intermediate streams and encounter Himba people. The Himba have been plagued by severe droughts, guerrilla warfare (during Namibian independence and the Angolan civil war) and the German forces that decimated other groups in Namibia.
Despite Himba life nearly ending in the 1980s, they have persevered, and their people, culture and tradition remain. The women are famous for rubbing their bodies with otjize, a mixture of butter fat and ochre, believed to protect their skins against the harsh climate. The red mixture is said to symbolize earth's rich red color and the blood that symbolizes life.
We cross over Red Drum Pass, making for a proper end to a very interesting day.
O/N Camping – Marble Community Camp.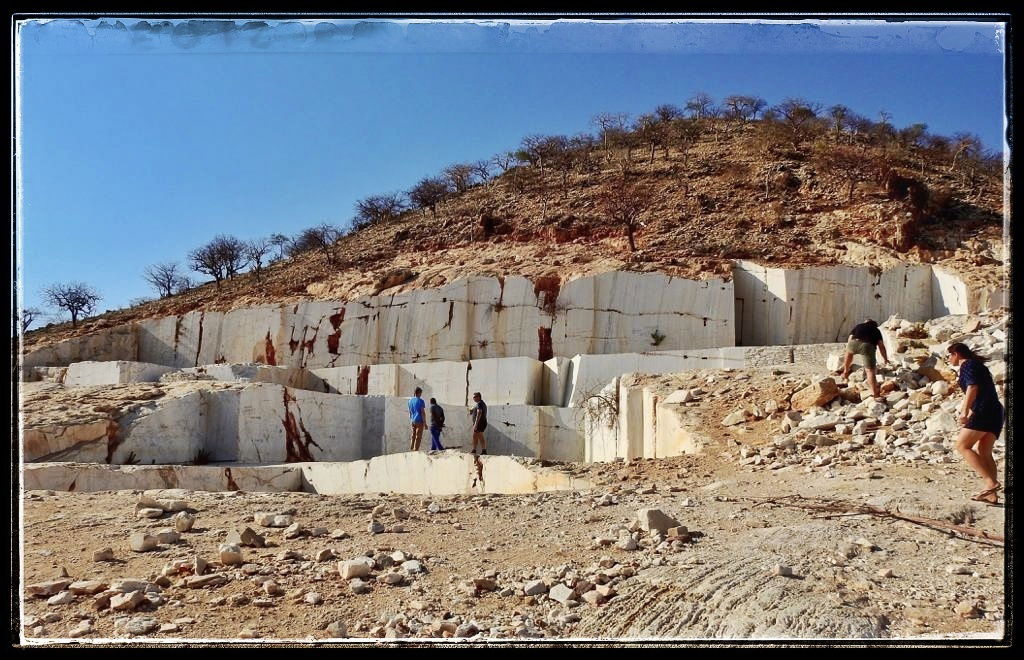 Marble Mine
Day 12 - 220km
Opuwo, or formerly knowns as Ohopoho in the 1940 and the capital of Kaokoland is where we are heading today. The road is tough and slow as we cross through the mountains making our way.
This is also part of the main catchment area of the Hoarusib River. In Opuwo ancient traditions and modern times meet, as Opuwo is the center of the Himba culture.
We end the tour at Opuwo Country Lodge. Accommodation and meals are for your own account.
End of Tour.
---
This tour is not a trailer friendly tour.
---
Tour Price: 2023.
Adults: N$21,700.00
Child Age to 5: No Charge.
Child Age 6 to 12: N$3500.00
Child Age 13 to 17: N$5500.00
No single supplement on this tour.
---
Dates available for this tour: 2023.
14 to 25 April (5 spots left)
For any other dates please send us an email.
---
Included:
Meals: Dinner and breakfast.
Experienced guide with own vehicle.
Dinner at White Lady Lodge on arrival.
Two-way radios for vehicles, camp shower and toilet during wild camping.
Communal, permit, concession and camping fees.
Excluded:
Visa cost.
Border costs.
Travel and Medical insurance.
Beverages and water.
Last night accommodation and dinner at Opuwo Country Lodge.
Any accommodation upgrades or changes to the tour plan.
Camping equipment.
Lunch.
---
Notes:
It is very important that everyone carries enough fuel. Most of the driving is on gravel roads and soft sand. Your vehicle fuel tank must have a minimum 1000km range, in normal circumstances. Please do your own calculation, as you know your own vehicle best.
Costs are based on current government taxes and regulations, should this change we will have to adjust the tour cost accordingly.
Please ensure that you have sufficient medical and travel insurance.