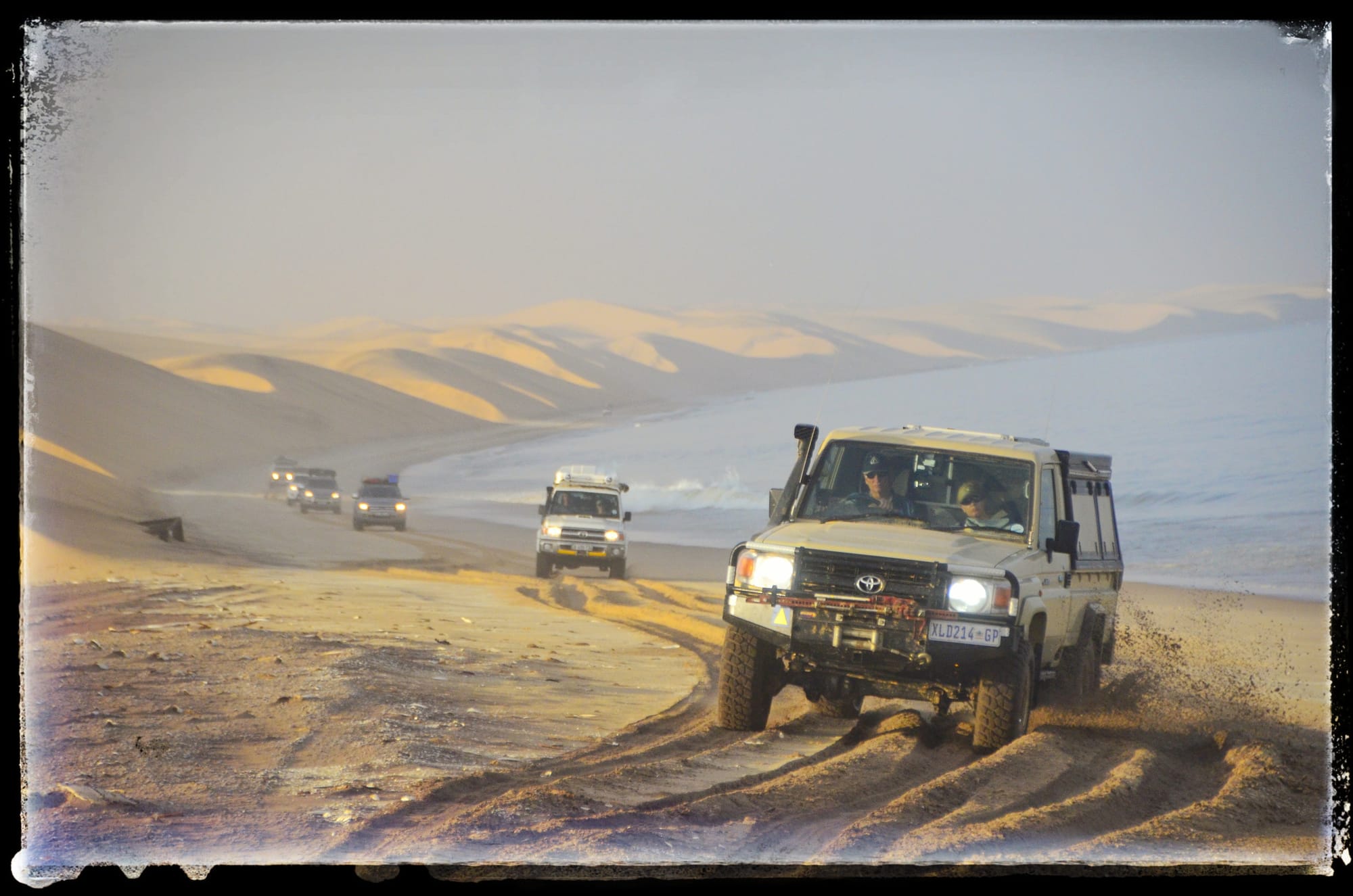 The Death Acre on a good day
Meet and Greet day:
Plan your itinerary to arrive in Ruacana no later than 17:00 today. Accommodation options in the Ruacana area are limited, we would therefore suggest Eha Lodge.
Meet Jakkals and fellow travelers at the lodge. There will be a briefing of what to expect the next couple of days. We will also exchange money for Angolan currencies, followed by a welcome dinner. (dinner included in tour costs).
Please remember to keep your headlights on when driving in Namibia. (day or night)
O/N Eha Lodge (Camping cost included in the tour package).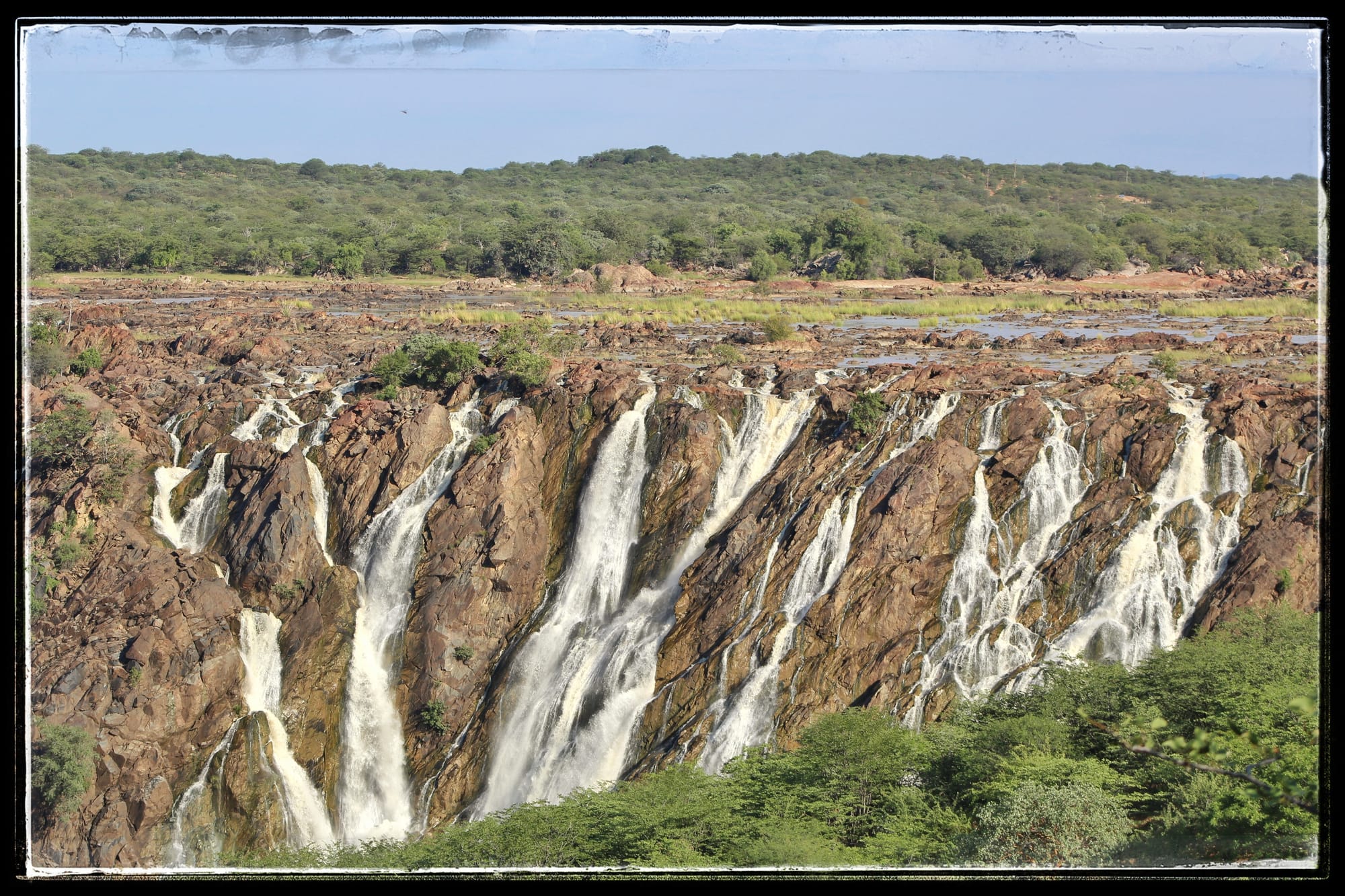 Day 01 to Day 04: 439km
We will have an early morning departure for Ruacana border post as crossing the border can be time-consuming. From Ruacana we head in a western direction toward Oncocua. The road is challenging, and driving will be slow. This will allow time to take in the beauty of the area, which might remind you of Namibia's Kaokoland.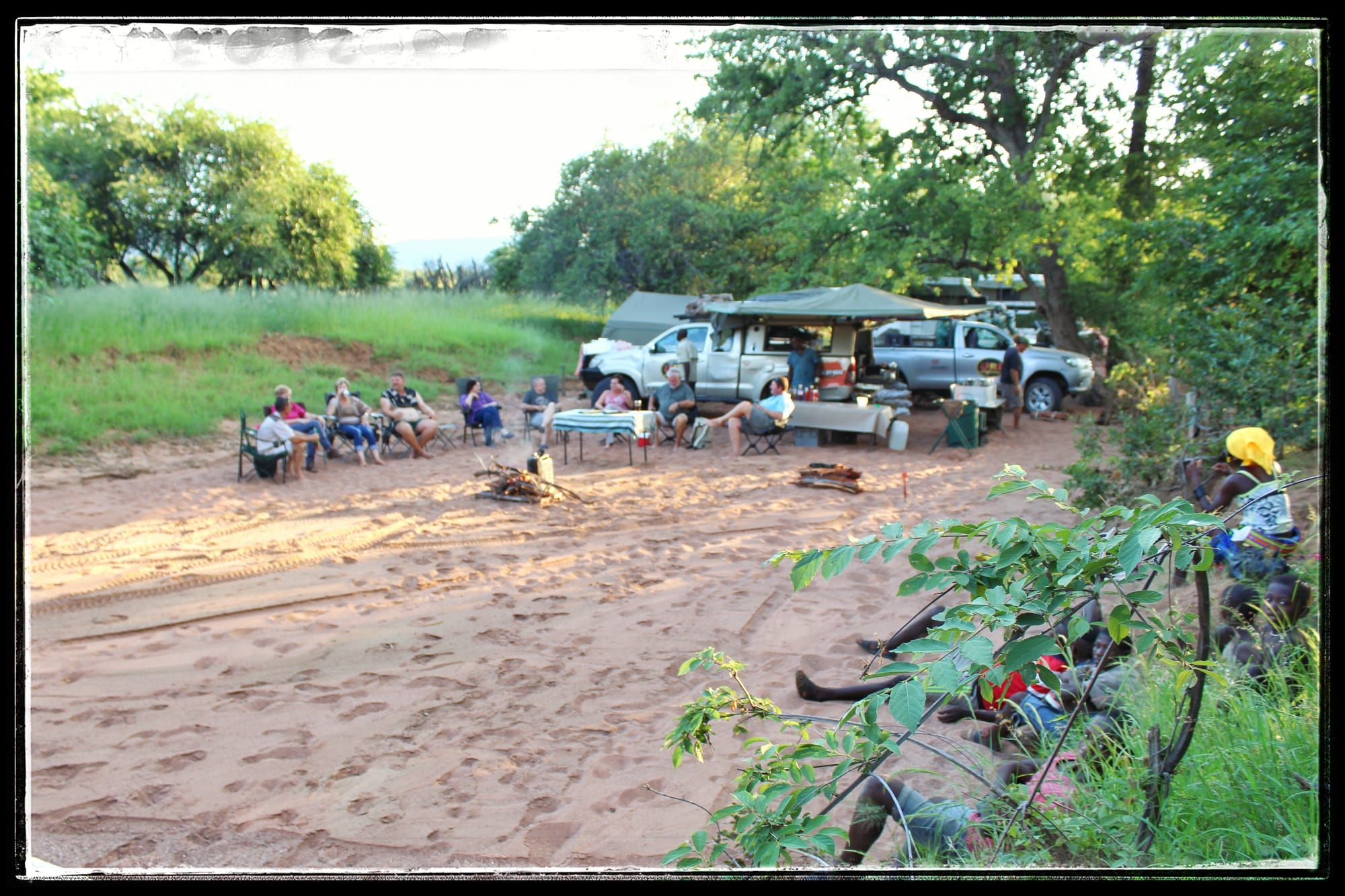 Wild Camping

On our journey towards the mouth of the Kunene River we might come across the nomadic people of this area, the Himbas. The tribes move around the area and even cross the border back to Namibia depending on water and food for their animals.
We head for the Iona National Park. It covers about 15,200 km², the largest in the country. Before the independence of Angola and the Angolan Civil War, Iona was an animal paradise, rich in game. However, as is true for most Angolan national parks, illegal poaching and the destruction of infrastructure have caused considerable damage to the once rich park. The park is also known for unique flora and incredible rock formations.
Iona is Angola's oldest and largest national park, it was proclaimed as a reserve in 1937 and upgraded to a national park in 1964. We will be driving through the park to our overnight stop en route.
O/N Camping: Wild Camping – Hangumbi River – Jheke River – Kunene River.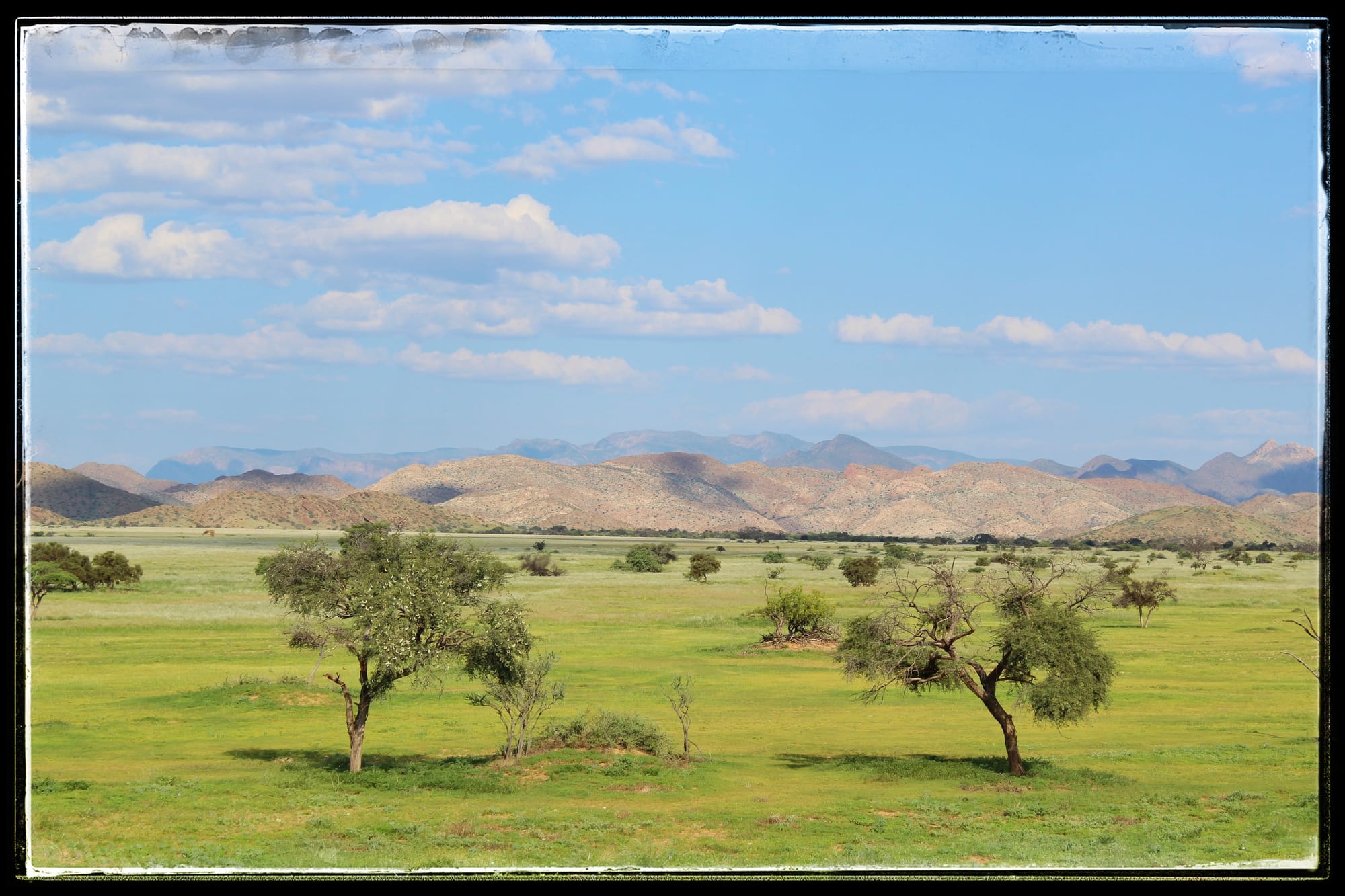 Iona National Park Angola
Day 05 & 06: 245km
Today we reach the mouth of the Kunene River, a spectacular view of fresh water flowing into the ocean, not to mention the birdlife in the area. We turn north, and conditions start to change dramatically as we start to encounter the salt pans of the Death Acre. We will make way to Camp Relieve (This is where many vehicles were lost in the past). The tide will close us in as we set camp for the evening. The following day we will have to time the tide correct to exit the Death Acre, which can be very tricky. NOTE: If conditions doesn't allow us to travel through the Acre, we will continue through the dunes.
O/N Camping: Wild Camping – Camp Kunene – Shambashana.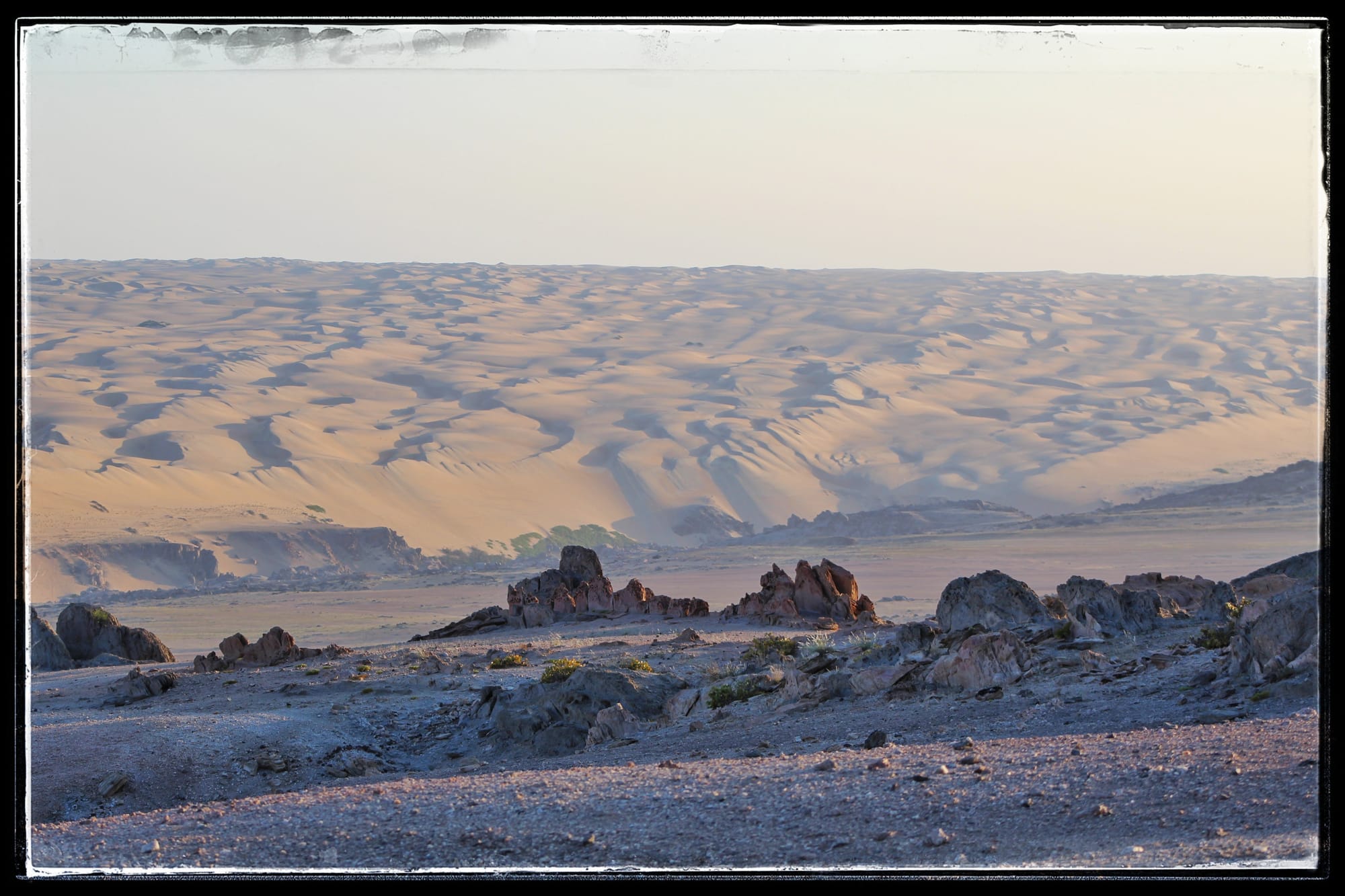 View of Namibia dunes from Angola
Day 07: 257km
Making way to Namibe, founded in 1842 and until 1985 had the name of Mocamedes. Namibe has the third largest port in Angola, after Luanda and Lobito. It is also the terminus of the Namibe Railway. The town has a gigantic market where you can buy nearly anything, and we will have the opportunity to spend some time shopping here.
We head to Lubango, driving via the spectacular Leba Pass with its awesome hairpin bends and waterfalls. The road rises from the coastal plain to an altitude of over 6 000 feet in just a few kilometers.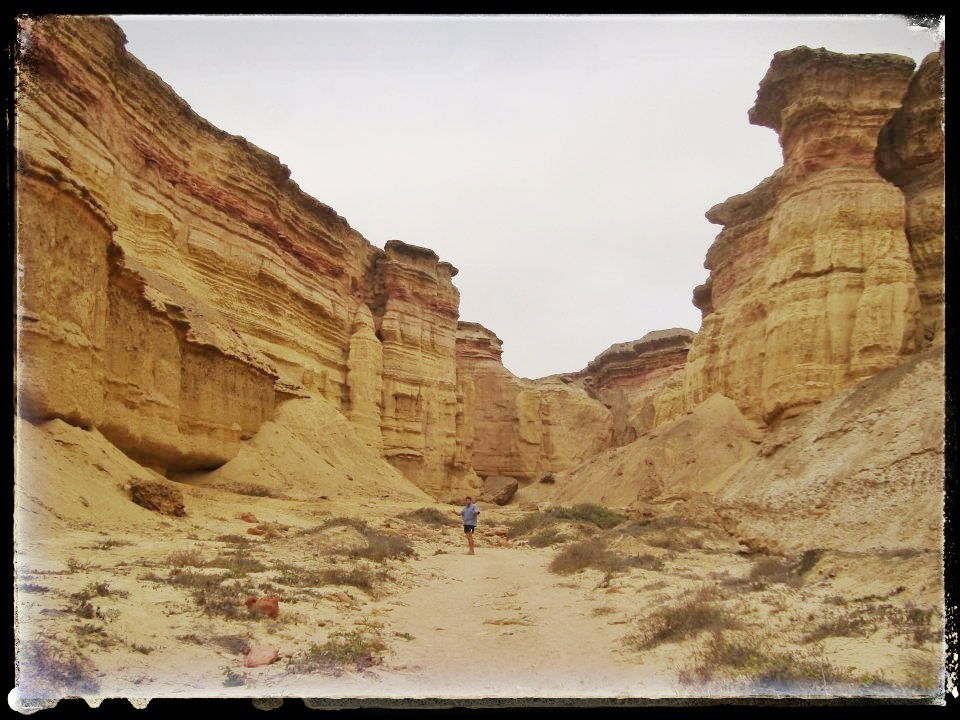 Sandstone formations
Humpata is 20 km from Lubango. It has a strong South African connection as it was here where the Dorstland Trekkers settled in 1881. The "Monumento do Christo Rei" keeps a watchful eye over the city of Lubango. The white marble statue is 30 meters high and situated on a hill near the city. The statue is a smaller version of the one in Rio de Janeiro and Lisbon.
O/N Camping: Wild camping at Tundavala.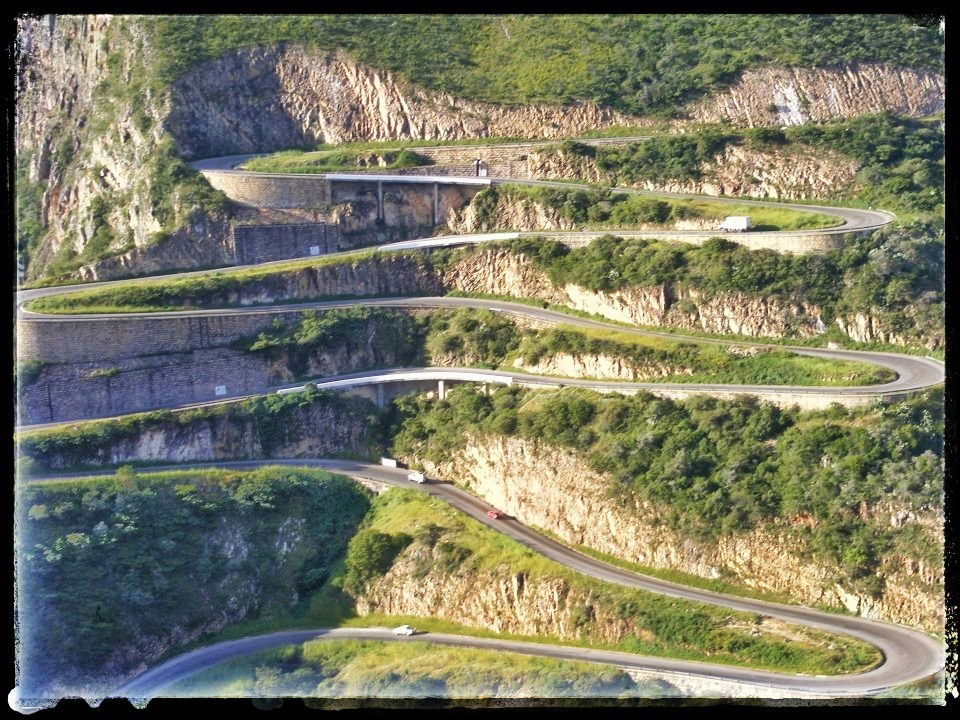 Leba Pass
Day 08: 436km.
Last day of the tour as we make our way back to Namibia. Early morning departure after coffee and rusks. The road is good, but it takes a long time to get there. We pass through Xangongo making way for the Oshikango border where we will enter Namibia. Our last fuel stop will be just in front of the border where you can fill up your tanks with fuel and spend your last Kwanzas.
NOTE: Please don't plan to drive to far after passing into Namibia. You won't make Etosha. Its recommended to book yourself into Palmeira Lodge for the evening and proceed the next day.
Reservations at Palmeira: raymond@palmeiraslodgeoshikango.co.za
End of tour.
---
This tour is not a trailer friendly tour.
---
Tour Price: 2024.
Adults: N$ 13,500.00
Child Age to 5: No Charge.
Child Age 6 to 12: N$ 5500.00
We charge no single supplement on this tour.
---
Tour Dates: 2024.
Please note that the dates may move up or down depending on the TIDES of the Acre.
For any other dates please send us an email.
---
Included:
Camping and dinner at Eha Lodge on arrival in Ruacana.
Iona National Park Fees.
Meals: Dinner and breakfast.
Experienced guides with own vehicles.
Two-way radios for vehicles.
Warm water camp shower and chemical toilet during wild camping.
All camping equipment in and around kitchen set-up.
---
Excluded:
Visa cost. South African passport holders don't need one.
Yellow fever certificates. If you can't take yellow fever let your GP just give you a note.
Border costs. You will need R500 for cross-border charges.
Travel and Medical insurance.
Beverages and water.
Lat evening accommodation in Namibia.
Any accommodation upgrades or changes to the tour plan.
---
Notes:
It is very important that everyone carries enough fuel – Most of the driving is on bad roads. Your vehicle must at least have a 1000km range, in normal circumstances. Please do your own calculation, as you know your own vehicle best.
Costs are based on current government taxes and regulations, should this change we will have to adjust the tour cost accordingly.
Please ensure that you are holding a valid passport (Expiry date must be 6 months after date of return with at least 2 empty pages)
Please ensure that you have sufficient medical and travel insurance, very important.
The Angola visa application process can sometimes be nerve wrecking. The application is online. You will need supporting documentation which we will supply you with.
---
Documentation needed to enter Angola:
Valid passport or Visa – minimum of four (4) copies for driver and passengers.
Valid driver's license – one (1) copy. If two drivers both need copies.
Certified copy of vehicle registration papers. Make a copy of the one where you cut the disc out from as this shows your number plate of your vehicle.
Letter of authority from the registered owner if the vehicle is not owned by the driver. If vehicle is still being financed, carry a letter of authority from the bank must include dates of travel. If the vehicle is in your company name, let the company give you the authorization letter.
ZA Sticker.
Yellow fever certificate for everyone travelling.
COVID PCR test not older than 72 hours.
Vaccination certificate.
---
Money and payment in Angola:
We will assist you in exchanging money at the bank at the border. Currencies accepted is South African Rand, Namibian Dollar and US Dollar. It is advisable to rather change South African Rand.
Debit and credit cards do work at some stores but can't be guaranteed, so rather pack some cash, especially for your fuel. Petrol cards don't work in Angola.
For further detail please don't hesitate to contact us.